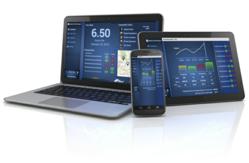 Portland, OR (PRWEB) September 27, 2012
Provider of best-in-class ERP and ECM software for construction companies, Viewpoint Construction Software will exhibit fully integrated Viewpoint Mobile Field Manager, Powered by Resource Commander®, at the NECA Show, Sept. 29 – Oct. 2 at the Mandalay Bay Convention Center in Las Vegas, booth # 1041.
The Mobile Field Manager solution, available on Android and iOS platforms, offers Viewpoint customers an extension to Viewpoint V6, delivering the ability to capture time, equipment usage and production in the field, in or out of network. With a seamless integration to Viewpoint V6 Software's Payroll, Job Cost and Equipment modules, customers can make sure everyone is connected and gather, disseminate and analyze data from the field making a real and measurable impact on their bottom line.
About the NECA Show
The NECA Show is the premier annual expo for the electrical construction, power and cabling industry where electrical professionals can view the latest innovations in tools, system controls, software and vehicles plus learn about the business services their companies rely on. For more information on the 2012 NECA Show visit http://www.necaconvention.org, or contact Katie Nolan at NECA, Katie(at)necanet(dot)com, 301-215-4506. View the full NECA Show Expo Map at http://www.necaconvention.org/show.
About Viewpoint Construction Software
Named Oregon's Best Software Company 2012 by TechAmerica, Viewpoint Construction Software has a long-standing focus on meeting the information needs of construction companies, achieving a leadership position in construction-specific ERP and ECM software. Viewpoint's V6 software is an ERP suite of integrated applications, including mobile applications for time, job and equipment communications in the field, and for accounting, human resources, project management and construction operations. Construction Imaging is an ECM and workflow suite with complete integration to Viewpoint and other industry accounting and project management applications. Available as cloud and on-premise solutions, our configurable and scalable products address the unique needs of leading firms throughout the U.S., Canada and Australia. For more information, visit http://www.viewpointcs.com
© 2012 Coaxis, Inc. dba Viewpoint Construction Software. All Rights Reserved. Viewpoint Construction Software® and Construction Imaging® are trademarks or registered trademarks of Coaxis, Inc., dba Viewpoint Construction Software in the United States and/or other countries. Resource Commander is a registered trademark of ACS Connect. Other names and brands may be claimed as the property of others.