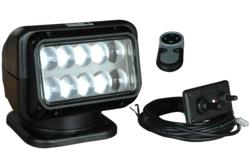 Kemp, TX (PRWEB) September 26, 2012
The GL-9049-24V LED Golight remote control spotlight from Magnalight.com combines the power and efficiency of LEDs with the versatility and convenience of remote control operation. Producing 2,520 lumens and capable of throwing a light beam over 900 feet in length, the GL-9049-24V is designed to provide extreme reliability while allowing operators to remotely control on/off operation and vertical and horizontal movement from up to 100 feet away.
This high power LED spotlight is built for demanding conditions with a UV resistant and weather proof housing and heavy duty internal components including an automotive grade motor and corrosion resistant wiring and contacts. Operators can turn the unit on or off and move the light through 370 degrees of rotation and 140 degrees of vertical tilt using an included weatherproof handheld controller.
Also included is a wired dash mount controller, which allows operators to mount a permanent controller within vehicles or in boat cabins for maximum convenience. Like most Golights, these units operate from 24 volt DC current, making them compatible with a wide variety of vehicles and equipment, particularly vehicles configured for military and law enforcement use.
The LED lamp assembly in this Golight produces 2,520 lumens and adds a much greater degree of efficiency and reliability as well as greatly improved beam quality compared to similar spotlights equipped with halogen lamps. The LEDs in this spotlight are resistant to damage from impacts or vibrations, and will operate for 50,000 hours reliably, far longer than the usually 500 to 1,000 hours common with halogen spotlights. The GL-9049-24V LED Golight is ideal for a wide variety of applications including security and boating, hunting, and military or law enforcement operations will provide years of reliable operation even under demanding outdoor conditions.