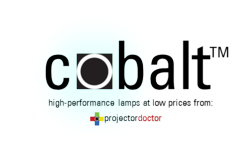 Cobalt's high-performance OEM parts coupled with lower than market prices keeps Projector Doctor's customers satisfied financially without sacrificing brightness, quality, and product lifespan.
San Diego, CA (PRWEB) September 26, 2012
Projector Doctor, a division of Mendtronix Inc. and the AV industry's only full-scale commercial AV repair services and logistics company, today announces its proprietary line of replacement projector lamps, Cobalt. Cobalt's high-performance OEM parts coupled with lower than market prices keeps Projector Doctor's customers satisfied financially without sacrificing brightness, quality, and product lifespan.
Projector Doctor understands that there is no "one size fits all" when it comes to lamps, therefore its Cobalt line has expanded to over 400 product variations, designed to be fully-compatible with projector specifications for all major brands and projector models. With prices starting at $199, free shipping, and 120-day warranty, the Cobalt lamp line is able to stay highly competitive in the marketplace, which has become increasingly saturated with lower-quality aftermarket imitations.
"We are the only nationally authorized factory repair services company that offers a quality projector lamp line," said Steve Storr, president and CEO of Projector Doctor and Mendtronix, Inc. "Our extensive projector technical expertise has allowed us to offer a replacement lamp that delivers better picture quality, brighter output, and overall longer life compared to competing replacement projector lamps. We welcome the expanded Cobalt line as a coveted addition to Projector Doctor's full range of products and service capabilities."
Cobalt lamps are manufactured with 100% OEM bulbs and reflectors from Philips, Osram, or Ushio. Unlike generic and lamps built with non-OEM parts, Cobalt lamps have controlled pressure at the optimal level which mitigates risk of failure and prolongs the product lifespan. In addition to product quality benefits, Cobalt customers can now place, track, and manage orders through Projector Doctor's newly streamlined, 24/7 online store.
The Cobalt line announcement follows a wave of newly awarded business for the company, launch of a new website, and highly anticipated roll-out of new branding initiatives. According to the company's brand strategy, Projector Doctor's umbrella company, Mendtronix, Inc., will facilitate the growth of its AV services and logistics capabilities for large, high-volume customers and will further diversify into new and emerging product markets, including interactive flat panel displays.
About Projector Doctor:
Projector Doctor, a division of Mendtronix, Inc., was founded in 1998 and has become the leader in national projector and AV services and logistics. With locations in Atlanta, Pittsburgh, and San Diego, the company provides customers with the fastest turnaround times in the industry. Integrated into Projector Doctor's services include unique, 24/7 automated RMA generation, robust data management system, and real-time reporting. Projector Doctor is the authorized service center (ASC) for all top electronics brands and has one of the largest inventories of replacement projector lamps and bulbs in the nation. From large Fortune 500 businesses and ProAV, to government, education and houses of worship, to large end users such as Regal Entertainment, National CineMedia and AMC Theaters, Projector Doctor's high-touch services support the full spectrum of today's manufacturers and professional AV user needs. Visit http://www.projectordoctor.com for more information.
About Mendtronix:
Mendtronix, Inc. (MTI) is the premier AV repair and logistics services company. MTI's customer base includes Fortune 500 corporations, national manufacturers, global contract manufacturers, resellers, logistics professionals, and large end-users. As a leader in quality repair, refurbishment, and after-market operations, MTI has solidified its position as the turnkey solution for the complete electronics lifecycle. With a proven track record for scaling quickly and efficiently into new product markets, MTI has built the infrastructure to service a wide range of vertical industries. The company's wide array of customizable services reduces operating costs, minimize waste, and optimize the longevity of the electronic product lifecycle. For more information, please visit http://www.mendtronix.com or call Todd Savitt, VP Business Development, at (858) 726-0200 ext. 297.