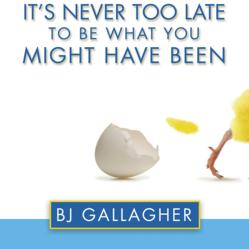 Quotations that will make your heart sing, and thoughts that will focus, perspective and empowerment to your life. —Jack Canfield
(PRWEB) September 26, 2012
People have busy lives. Sometimes the only time to read is while commuting to work or taking the kids to soccer practice. Now Viva Editions offers another way everyone can improve their lives with the addition of six bestsellers to our list of audio books. Check out these titles, just released from Audible:
Apocalypse Not: Everything You Know about 2012, Nostradamus and the Rapture Is Wrong
by John Greer, narrated by Bill Andrew Quinn
A survey of three millennia of apocalyptic prophecies and the failed dreams and nightmares that have clustered around them.
The Fatigue Prescription: Four Steps to Renewing Your Energy, Health, and Life
by Linda Hawes Clever, narrated by Traci Odom
This book is engages people to find their own remedies to "over-whelm" and "under-joy."
It's Never Too Late to Be What You Might Have Been
by BJ Gallagher, narrated by Karen Commins
A guidebook to getting the life you always wanted. Gallagher gives personal examples through interviews with people who have achieved their dreams with specific tips for readers to take away.
Change Your Life!: A Little Book of Big Ideas
by Allen Klein, narrated by Marlin May
Full of uplifting and inspirational quotes that will change your life when taken to heart.
Inspiration for a Lifetime: Words of Wisdom, Delight, and Possibility
by Allen Klein, narrated by Marlin May
Categorized by stress-related themes (such as: Kids, Jobs, Spouses, even Modern Technology), just the right quote to amuse and inspire can be found at a moment's anxiety.
Every Day Love: The Delicate Art of Caring for Each Other
by Judy Ford, narrated by Annalyn Hostert
A peek into love that comforts and thrives, Every Day Love is filled with stories and experiences that are often overlooked as insignificant. These small moments from the heart of a relationship are actually nothing less than the nuts and bolts of loving.