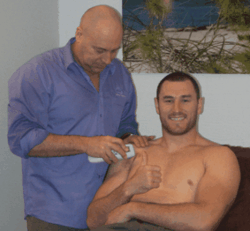 "Since being exposed to RITM SCENAR therapy I have witnessed accelerated healing responses & enhanced recovery" Pirtek Parramatta Eels, PT, Victoria Locke
(PRWEB) September 27, 2012
The Scenar Health Group of worldwide companies are proud to announce a new partnership for the 2013 Australian Rugby League season with the Pirtek Parramatta Eels as the recovery and pain management partner supplying expert training, support and therapy to their medical team and elite players with the RITM SCENAR Device.
Scenar Health are acute and chronic pain specialists using SCENAR Technology, and are an important addition to the recovery and training program for any athlete or team. The RITM SCENAR is a hand held medical device that delivers electrical stimulation through the skin to deliver fast pain relief and trigger the body's own healing process. The RITM SCENAR Device is CE, TGA, FDA and Health Canada cleared approved for the management of acute, chronic and post operative pain.
The NRL Pirtek Parramatta Eels are a professional Australian Rugby League team. Rugby League is a full contact sport played by two teams of thirteen players on a rectangular grass field. It is frequently cited as the toughest, most physically demanding team sport, fast with big hits, little padding and few substitutes.
The NRL Pirtek Paramatta Eels' Physiotherapist Victoria Locke said RITM Scenar's Technology would have a marked effect on the Club's injury management.
Clinical data supports the use of RITM SCENAR therapy and can be used at any stage in the treatment cycle to reduce clients' pain. Olympic athletes, world champions and professional athletes already use RITM SCENAR medical technology and it was a key preparation tool for many Australian athletes preparing for the 2012 London Olympic Games.
The key benefit for RITM SCENAR technology is that is non pharmaceutical, has few contra indications and allows athletes to return to training and competition sooner than other electro-therapy devices.
"In elite level sport effective and efficient injury management and recovery is paramount," said Locke.
In USA and Canada professional Baseball and Hockey Teams and individual athletes are actively using RITM Scenar Technology discovering the benefits of RITM SCENAR technology that the Russian Scientists & Neuro Physicists developed over thirty years ago.