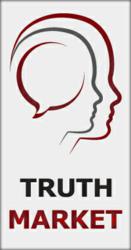 Children may face even greater risks than adults, since their brains are still developing
Atherton, California (PRWEB) September 26, 2012
TruthMarket, a division of Truth Seal Corp., today announced that a registered member launched a campaign disputing the mobile phone industry's claims that cell phones have been proven safe for humans. The first person who can deliver verifiable proof that cell phones do no harm when used for more than 30 minutes a day for at least 5 years can win $5,000.
The campaign's position is that the use of cell phones by millions of people on a daily basis constitutes one of the largest de facto uncontrolled experiments ever on human subjects without their being fully informed of potential risks. Used as intended, these devices radiate into the head and brain. Frequent exposure carries health risks. "Children may face even greater risks than adults, since their brains are still developing," according to the Environmental Working Group. Several independent studies find exposure to cellphone radiation can more than double cancer risk for regular users, damages sperm, impairs DNA's repair capability, and produces other signs of cell damage. If they were really safe, phone manufacturers and telecommunications carriers would have offered convincing data by now. Where is it? Prudence is advised to minimize harm.
To win the $5,000 bounty, a campaign challenger must provide verifiable evidence that cell phones do no harm when used for more than 30 minutes a day for at least 5 years.
About TruthMarket
TruthMarket is a division of Truth Seal, a California Corporation. TruthMarket is designed to be a popular online platform that enables everyone to campaign for truth in public dialogue. The primary objective is to increase truth and trust throughout the public information space – online and offline – by publicly exposing false claims and highlighting true claims. TruthMarket's ultimate goal is to predispose all public dialogue toward truth telling.
Trademarks
Marketplace for Truth Telling, TruthMarket and TruthSeal are trademarks of Truth Seal Corp.