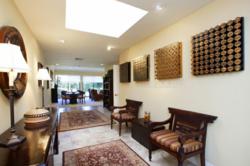 New Listing in Morningside Country Club. $729,000 furnished
Palm Springs, CA (PRWEB) September 26, 2012
Palm Springs, CA September 25, 2012. The real estate market in the Coachella Valley has been in recovery for some time. The homes prices are continuing to rise and inventory is dwindling. "We are thrilled with the activity and are calling all of our unsure clients to list their homes," according to Palm Springs Realtor Constantine Kolytiris with GC Fine Properties in Rancho Mirage. "This will put some brand new inventory on the market and add to the excitement among buyers."
"Home prices in the Coachella Valley rose for the sixth straight month in July as inventories of lower-priced and distressed properties continued to dwindle and buyers sought options such as newly built homes, a new report shows". This has been good news for sellers thinking about selling their homes who could have seen an increase in their value.
California Association of Realtors comments regarding low inventory in the real estate market in all of California. Potential sellers that have waited in fear of getting low offers are starting to rethink listing their property. It is also motivating buyers to move more quickly and have their financing ready. Palm Springs Agent Constantine says buyers are more prepared with their financing today in fear they may miss out on today pricing.
Buyers are still looking for a deal, but they are starting to understand that the bottom has been reached. Properties for sale are starting to receive multiple offers in Palm Springs and in the surrounding cities. "Many of my clients have missed out on opportunities by waiting just a little too long to make a decision" Palm Springs Real Estate GCFineProperties has said, "this was not the case a year ago". GC Fine Properties is suggesting to their clients to make their decision quickly and be a little more aggressive on their offers.
Investors and buyers have been watching and waiting for this uptick and the lack of inventory is strong evidence that they have taken the plunge and are starting to buy. "It is starting to make for more buyers who are willing to buy a fixer and make it into their perfect home" adds Palm Springs Realtor Constantine Kolytiris. "We have seen some of the most amazing renovations of homes with some of the best views in the valley. Very Exciting!"
Palm Springs Real Estate GC Fine Properties are experts in Greater Palm Springs and Desert Cities. Team Gina & Constantine lead the area in expertise as both Executive and Premier Directors of Windermere Real Estate. Contact Constantine Kolytiris at 760-333-8028 or email conk(at)windermeresocal(dot)com.