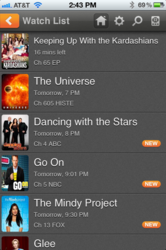 The Watchlist allows users to place all their favorite shows into one place where they are easy to find.
Seattle, WA (PRWEB) September 26, 2012
BuddyTV Guide, the media company behind the massively popular free TV discovery app, today announced the new Watchlist, a powerful personalized experience for TV viewers. The Watchlist allows users to place all their favorite shows into one place where they are easy to find. New show series and movies are available for users to add into their Watchlist, making show information and times easier to keep track of. Additionally, the experts at BuddyTV fill the void with suggestions, articles, pictures, and slideshows to help users find the best programs to add to their Watchlist.
BuddyTV initially launched the BuddyTV Guide app in September 2010. Since then, the app has gained significant traction with users. Features of the app include an alert service that can remind users when their favorite shows will be on, suggestions of other programs that the user might like, and remote control abilities. Each user's situation is different and the listings are based on the individual's zip code and cable provider.
"The Watchlist is an extremely important feature for our users making TV discovery more personal and more powerful," said Andy Liu, co-founder and CEO of BuddyTV. "The old TV guide is stale and can't keep up with all the programming that is available to users today, we're here to help people navigate TV discovery"
The Watchlist is the first thing users see when they open their BuddyTV Guide app, along with other helpful quicklists such as: Most Popular, Fall Series, NFL Games, MLB Games, My Favorite Stations, and Upcoming. The Watchlist feature is an easy way for users to track their favorite shows.
BuddyTV Guide indexes all the major cable and pay TV providers' schedules as well as the major Internet Video providers to create the best personalized TV discovery experience. Watchlist, TV grids, Search, and editorially driven guides help users find shows to watch in less than 20 seconds.
The BuddyTV Guide 2.6 app is available for free on the app store on iTunes. To learn more, visit the BuddyTV Guide website for more details.
###
About BuddyTV:
BuddyTV's goal is to help TV fans discover their must-see TV. As the #1 independent TV site on the web, this means providing a venue for over 5 million unique visitors per month to connect with fellow fans, read the latest news and enjoy entertaining features about their favorite shows. Now, with over 400,000+ downloads on iOS and an almost perfect average user rating of 4.5 stars, the BuddyTV Guide app is enhancing and expanding the ways that consumers enjoy their TV time.
Press Contact:
For press inquiries or to arrange an interview with BuddyTV CEO Andy Liu, please contact Lindsay Hersh: Lindsay@buddytv.com or 206.859.4180
For more information about BuddyTV and the BuddyTV Guide App, visit BuddyTV.com, and follow @BuddyTV and @BuddyTVGuide.