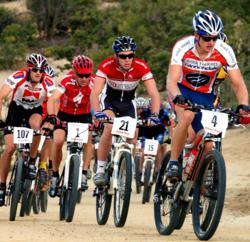 Farmington, N.M. (PRWEB) September 26, 2012
The Road Apple Rally is a fun and fast downhill race for mountain bikers, young and old, professional and beginner. The race route is a 30-mile loop, with a 15-mile loop for beginners, held in the Glen Allen Recreation Area. The race began as a test between horseback riders and bikers, but quickly grew into an event that drew top biking talent. Today the Road Apple Rally is organized by the Farmington Parks and Recreation and Cultural Affairs Department and a cadre of excellent volunteers.
The race's appeal is its bumpy course through arroyos, slick rock and rolling terrain, a fast downhill ride that keeps bikers peddling most of the time. Biking legend Ned Overend of Durango, Colorado is one of the course's big fans, winning the race a number of times over the years.
This year participants must register online by October 3rd. There is late registration with an additional fee on October 4th. The races begin at 8:30 a.m. on Saturday, October 6th. They begin and end at the Anasazi Pavilion and outdoor amphitheater in Farmington's Lion's Wilderness Park.
The Farmington Convention and Visitors Bureau has a website and a toll free number, 800-448-1240, for questions about accommodations and other things to do in the area including a vigorous and bumpy off-road bike ride over the Road Apple Rally course.