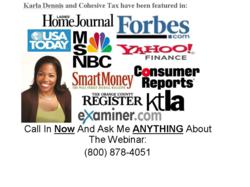 Buena Park, California (PRWEB) September 25, 2012
This announcement is to invite anyone and everyone to a FREE LIVE public webinar for everyone to attend, on how to protect wealth and create new business opportunities. This free class is for anyone to attend. First to register, first served!
The Nation's Go To Tax Guru, Karla Dennis (CEO of Cohesive), along with Entity Creation specialist Aaron Young (CEO of Laughlin & Associates), invite the general public to attend an evening of wonder and amazement as they reveal the secrets to successful businesses.
Click Here Now To Register And Hold Your Spot!
Cohesive and Laughlin & Associates proudly present: Protecting Your Wealth And Creating Cash Flow! Learn Secrets of Growth, Profit and Protection seminar and free class, taking place Tuesday, October 23rd from 6:30 to 9:00 pm PST at the Radisson Hotel in Buena Park, CA.
Karla Dennis, CEO of Cohesive, along with CEO of Laughlin Associates, Aaron Young, will show people how to leverage their business for maximum growth. The goal is to have participants walk away with a comprehensive education as well as the right strategies to implement for maximum success. Cohesive has been helping clients save money on their taxes since 1990. Founded by Karla Dennis, Cohesive has grown year by year. Recently Awarded the prestigious A.G.E.N.T.S Business Year award by the city of Cypress, Cohesive has flourished and has helped their clients save thousands of dollars each year.
On the same note, Laughlin Associates has been an Incorporation Service Provider in business since 1972. Their mission is to proactively empower entrepreneurs with the resources and support they need to start, grow and profit from their business. An advocate for small business, Aaron has armed over 80,000 entrepreneurs with strategies that can be applied immediately to create exponential business growth and asset preservation.
Those who attend will take away great knowledge from this event. Learn 3 things that you can do to lower your taxes, the 2 critical mistakes business owners make that put everything at risk, how to use your corporation or LLC to implement the tax strategies of the super wealthy and the specific road map to go from giving the IRS a tip to having them return that tip to taxpayers.
The event is free of charge; however a $97 fee will be required to secure spot on guest list. This fee will be 100% reimbursed upon attendance of event. The first 20 people to register will receive a copy of Karla's audio CD, "Let's Find Your Missing Money".
Click Here Now To Register And Hold Your Spot!
You can RSVP if you have any questions by calling toll free 1-800-878-4051; just ask for Vanessa.