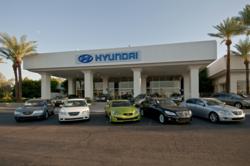 Many 2012 Hyundai models will be offered at significantly lower price points...
Scottsdale, AZ (PRWEB) September 26, 2012
Exciting offers are happening at Chapman Scottsdale Hyundai and customers are reaping the benefits. The dealership is clearing out model year end inventory to make room for new 2013 models. Now is the time to take advantage of deep discounts on new and used cars.
Customers can save big on an array of new Hyundai models. For example, a 2012 Veracruz Limited boasts a savings of over $8,000 off MSRP and starts at only $28,998. Similarly, the luxurious 2012 Hyundai Azera features nearly $3,000 in savings and starts at $30,264. Many vehicles are being offered at zero percent financing for well-qualified buyers. Chapman Scottsdale Hyundai also has a great selection of wallet-friendly used cars. With pricing starting at only $4,993, the dealership has a vehicle to fit any budget. Browsing new and used Hyundai vehicles is easy and stress-free because Chapman Scottsdale Hyundai offers a huge selection of used cars with CarFAX history reports.
"To make space for incoming 2013 vehicles, many 2012 Hyundai models will be offered at significantly lower price points which translate into major savings for Phoenix Hyundai customers," said Chapman Scottsdale Hyundai General Manager Rolland Schreiber.
Chapman Scottsdale Hyundai is already offering many of the highly-anticipated 2013 Hyundai vehicles, including the new Elantra in three variants: Coupe, Sedan, and GT along with the popular Santa Fe.
The second-generation Elantra GT has more occupant space as well as more cargo room than all of the five-door competitors in its category. The GT uses the same engine as the Elantra sedan; a 1.8-liter four-cylinder engine that produces 148 hp and 131 lb-ft of torque. As with the coupe version, the GT comes standard with an automatic transmission, but a manual is available as an option and both produce similar fuel efficiency with 28 city mpg and 39 highway. The fuel efficiency for the updated GT is much higher than the previous Elantra Touring's numbers.
The new 2013 Hyundai Santa Fe was completely redesigned for the first time since 2007, only the second time in its existence. It is now bigger and powered by a V6 engine. The new Santa Fe offers a modernized look that is not only aesthetically pleasing, but also boasts new technology and safety features that allow this crossover to stand out amongst the crowd.
To learn more about Chapman Scottsdale Hyundai model year end sale or to schedule a test drive in a 2013 Hyundai vehicle, visit http://www.hyundaiaz.com.