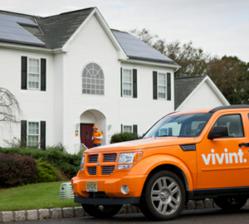 Rated a Consumers Digest "Best Buy"
Phoenix, AZ (PRWEB) September 27, 2012
With over a decade of experience in the industry, Vivint Home Security has claimed its spot among the best home security companies in the nation. Their industry leading solar technology, environmental-based alert systems, and wireless home security systems have earned them countless numbers of loyal clients throughout the country.
Vivint is most well known for their superior handling of emergencies during natural disasters – specifically hurricanes. Their home security system package offers a supplemental add-on that provides weather alerts in real-time. This is a life saving feature for those clients who live in areas that a regularly plagued by tropical storms and hurricanes each year. The Vivint Go! Control Panel allows customers to receive instant alerts regarding weather anomalies and natural disasters. Clients are able to receive these alerts via mobile device such as the iPhone or an Android based smart phone.
Supplemental power systems are installed with each home security system that is installed by Vivint. This backup power supply has been proven to save lives during storms and other disasters that may cause a power outage. This is yet another reason why Vivint is the leading home security company during unforeseen acts of God.
All customers of Vivint enjoy the benefit of access to emergency service representatives 24 hours a day, all year long. The company feels that this service is imperative to the safety and satisfaction of their client base, and they are happy to provide such a benefit to all of their members.
Utilizing a proprietary cellular security system, Vivint is able to stay connected to their members at all times. If landline and internet-based communication methods are knocked out due to a natural disaster, Vivint Home Security will still be able to use their cellular monitoring system to keep track of the safety of each individual member of their service. When used in combination with their wireless home security systems, which are less susceptible to damage from weather, the Vivint cellular monitoring system cannot be matched by any other company today.
In addition to the real-time monitoring of weather, Vivint has a state-of-the-art process in regards to home security. Through their 12 years of experience, the home security company has created a flawless system that dispatches authorities and alerts customers of possible break-in attempts in record time.
Best-Home-Security-Companies.com provides their visitors with unbiased reviews and opinions regarding all of the home security companies that are available to the public. Visit their website often to stay current with the features offered by Vivint Home Security and other leading brands.