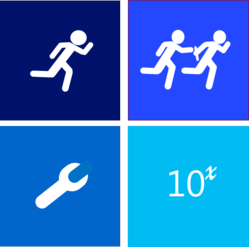 San Mateo, CA (PRWEB) September 26, 2012
TestArchitect 7 adds test automation support for Microsoft Internet Explorer 10, Firefox 14, Google Chrome 21 and Android 2x, 3x, 4x. The inclusion of Optical Character Recognition (OCR) and complex image comparison significantly extends graphical element testing. User experience enhancements include step-by-step event sequencing for easy test case debugging, and quick-select toolbars for one-click test case creation and management.
"The new platform support in TestArchitect 7 provides developers with the ability to conduct large-scale automated testing of more target platforms of the latest browsers and Android devices." commented Hung Nguyen, CEO of LogiGear, "The user-experience enhancements improve team collaboration and incorporate new features that make test case creation, maintenance and execution even faster."
TestArchitect is a modern keyword-driven test automation platform for efficient large-scale test automation. The automation approach eliminates unneeded details from test design to simplify test creation and make large-scale tests easy to maintain. For more information on TestArchitect, visit http://www.TestArchitect.com. For more about all LogiGear services and solutions visit http://www.LogiGear.com.
About LogiGear
LogiGear Corporation (http://www.logigear.com) provides global services and products for software testing with a focus on helping clients achieve cost effective test automation solutions. LogiGear's test automation products TestArchitect and TestArchitect for Visual Studio are based on Action Based Testing, a methodology for implementing modularized keyword tests. LogiGear also offers software development services and public and corporate software testing training programs worldwide through LogiGear University. LogiGear is a leader in the integration of test automation, offshore resources and US project management. Since 1994, LogiGear has worked with hundreds of companies from the Fortune 100 to early-stage startups, creating unique solutions to meet our client's specific needs.
For more information, contact Joe Hughes + 1 650.572.1400 x 140.