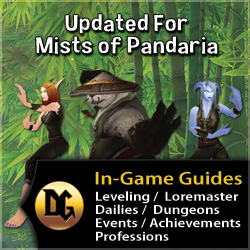 #1 World of Warcraft Mists of Pandaria Guide -strategyguideshq.com
(PRWEB) September 25, 2012
Looking for a good WoW Mists of Pandaria Guide? Dugi Guides has announced a brand new World of Warcraft Mists of Pandaria guide. Packed with latest strategies and leveling techniques used by professionals, Dugi Guides promises to help players hit level 90 in fastest possible time.
The most anticipated expansion for World of Warcraft called Mists of Pandaria went live on September 25, 2012. The new patch brings several new exciting features, including an all new Monk class and an increased level cap to 90. The thrill and excitement of grinding and leveling an all new character as well as challenge of being first among friends to accomplish this task is driving many players to seek professional help.
While leveling may seem fun and easy, it is definitely a tedious task. It would be okay if it was same for everyone, but there are already reports of top players hitting the level cap in less than a day while millions struggle to barely get out of first few zones.
Fortunately, Dugi Guides is here to help players shorten this leveling curve with their brand new in-game guide updated especially for Mists of Pandaria. For those who want to breeze through and power level all the way to 90, even with a level 1 character, this guide is a MUST HAVE!
This new version of Dugi Guides is a lot more than a mere textual guide. It consists of an in-game addon that guides players from quests to quests giving directions on where to go next and what to do next. Wondering which quest is best, or what order works best? Unsure of what quests can be skipped or what quest gives maximum experience? Dugi Guide has answers! Everything is laid out in perfect order to help players improve their overall World of Warcraft experience.
The best part about Dugi Guide is that the team been playing through the beta in order to update their guide for Mists of Pandaria before release. Currently all the strategies applicable for Mists of Pandaria are already available in the members area of Dugi's WoW Mists of Pandaria Guide.
Players from all over Azeroth have been flocking to this guide in preparation for the MoP expansion. In particular, many players were impressed with the posted screenshot that involved a regular player using Dugi's Guide to move from level 1 to 85 in less than 4 days of playtime. With the all new version of this WoW MoP guide, hitting level 90 is expected to take even lesser time.
Check out this detailed review of Dugi's WoW Mists of Pandaria Guide to learn more.