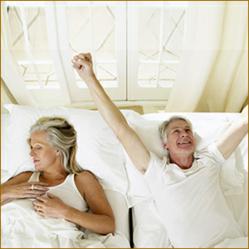 Seniors are even more vulnerable to the negative side effects of sleep deprivation.
MIAMI, Florida, (PRWEB) September 26, 2012
As individuals age, new challenges seem to crop up more frequently, not the least of which is the troublesome change in sleep patterns that comes in later years. Like everyone else, seniors need seven to eight hours of uninterrupted sleep to maintain good physical and mental health, but they struggle with a multitude of age-related problems that can prevent them from getting the rest they need. Ryan Breslow, vice president of marketing at Memory Foam Doctor, says the company is reaching out to seniors who can benefit from the supportive sleep a Memory Foam mattress provides.
One of the most notorious causes of sleep deprivation among seniors is the tossing and turning that takes place due to discomfort caused by a traditional spring mattress. Pressure point discomfort and bed sores can occur due to the resistance of a traditional spring mattress. A MemoryFoamDoctor.com mattress is designed to relieve pressure points by molding itself around each individual's body, cradling it and taking weight off pressure points.
Memory foam was originally developed for NASA astronauts who needed an absorbent layer of material to relieve pressure during takeoffs and landings. Today, memory foam mattresses are used routinely in hospitals worldwide to enhance circulation and relieve pressure points so patients can get a good night's sleep. Memory foam mattresses are particularly therapeutic for patients who spend long stretches of time in bed, as its unique elastic properties provides a personalized comfort zone for its user that senses body weight and temperature.
The result is a supremely comfortable bed that offers a healthy, deep sleep through the night.
Pressure points are located throughout the body, each one consisting of a cluster of nerves that form sensitive spots on muscles, tendons, and even blood vessels. When body weight pushes a pressure point against a mattress it can produce pain, as anyone who has ever slept on a low-quality mattress can attest to.
People who are recovering from injuries can benefit from a memory foam mattress that cradles their injured body and allow it to heal.
Individuals age 55 and older are experiencing the effects of the body's natural wearing down over time, as muscles lose elasticity and the ability to sleep comfortably on any mattress slips away. A memory foam mattress offers seniors the comfortable deep sleep they deserve, especially important since consistently healthy sleep is integral to maintaining an active and comfortable lifestyle.
As part of its commitment to providing new options for a healthy night's sleep, MemoryFoamDoctor.com is inviting seniors to try out its environmentally-friendly memory foam mattresses and toppers designed to support, cradle, and assist circulation for deep, restful sleep.
"There are a number of studies that show a direct correlation between eight or nine hours of comfortable, supportive sleep and emotional health," Breslow says. "Seniors are even more vulnerable to the negative side effects of sleep deprivation.
"Everyone deserves the opportunity to achieve a comfortable, sound sleep every night to contribute to their mental and physical well-being, and a memory foam mattress is proving to be the answer many seniors have been looking for."
MemoryFoamDoctor.com offers doctor-recommended, premium sleep products including memory foam mattresses, toppers, and latex pillows to provide the most comfortable and supportive sleep experience possible.
For more information, to view the Memory Foam Doctor line of sleep products, and to learn more about student discount programs visit the website at http://www.MemoryFoamDoctor.com.
About MemoryFoamDoctor.com:
Founded by recent college graduate Robert Gilbert and Stanford University student Ryan Breslow, MemoryFoamDoctor.com offers eco-friendly products made from soy-based memory foam, and pillows made with 100 percent renewable latex. More than just the products are environmentally friendly – the company's business model, from the clean manufacturing processes right down to the environmentally friendly shipping methods provide customers with high quality, affordable, eco-friendly memory foam mattresses, toppers, and pillows that produce a low carbon footprint.
MemoryFoamDoctor.com offers a10 percent cash rebate to customers who purchase a mattress, topper, or pillow and submit a detailed review about their Memory Foam Doctor product experience. For more information on student discount specials or to learn more about Memory Foam Doctor products, visit http://www.MemoryFoamDoctor.com.