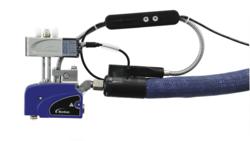 Duluth, Georgia, USA (PRWEB) September 27, 2012
The new EcoBead pattern generator from Nordson® Corporation (Nasdaq: NDSN) is a inline device that lets packagers quickly replace longer adhesive beads with stronger, shorter, intermittent beads in current operations.
Ecobead is designed specifically for use with Nordson OptiBond™ adhesive optimization solutions. The EcoBead module connects, without tools, to Nordson MiniBlue® II adhesive applicators, through a Nordson Saturn® SP solenoid valve, and to the programmable logic control (PLC) of existing packaging machinery. The device is compatible with existing 24-volt control architectures, variable-speed and constant-speed, continuous and indexed packaging machines.
The need for time-consuming or costly PLC reprogramming is eliminated, as is the need for more expensive stand-alone pattern controls. In addition no external power supply, encoder, trigger device or in-line speed sensor are required.
The pattern generator's rotary switches allow users to easily select from forty, individual, pre-programmed glue saving profiles. An optional USB programming device provides the ability to store up to 20 additional, custom programs, to meet virtually any packaging application.
Packagers who have recently installed the new device have achieved adhesive savings ranging from 30- to over 50-percent while maintaining bond strength. Adhesive bond strength is greatest at the beginning and the end of each adhesive bead. Dispensing a greater number of short, intermittent beads to replace long beads increases the number of beginning and end points, improving bond strength. As a result, packagers using shorter beads and less adhesive attain bonding equal to that of longer beads that use a greater volume of adhesive.
For more information on the EcoBead pattern generator and OptiBond solutions, contact Nordson Corporation at (800) 683-2314 or visit http://www.nordson.com/hotmelt.
Nordson Corporation delivers precision technology solutions that help customers increase speed, productivity and up-time, enable new products and features, and decrease material usage. The company engineers, manufactures and markets differentiated products and systems used for dispensing adhesives, coatings, sealants, biomaterials and other materials, fluid management, testing and inspection, and UV curing and surface plasma treatment, all supported by application expertise and direct global sales and service. Nordson serves a wide variety of consumer non-durable, durable and technology end markets including packaging, nonwovens, electronics, medical, appliances, energy, transportation, building and construction, and general product assembly and finishing. Founded in 1954 and headquartered in Westlake, Ohio, the company has operations and support offices in more than 30 countries. Visit Nordson at, http://www.nordson.com, twitter.com/Nordson_Corp, or Facebook.com/Nordson.