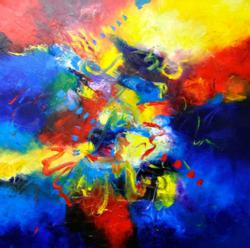 Aleta Pippin states, "When all of the necessary elements come together, Spontaneous Combustion occurs."
Santa Fe, NM (PRWEB) September 25, 2012
A new show is kicking off at Pippin Contemporary starting October 3rd and running from October 24th. The new show 'Spontaneous Combustion', featuring owner Aleta Pippin, is "The rendezvous of elements with similar vibration energy to ignite into a fresh creation". The gallery is featured on SantaFe.com, Santa Fe's premier on-line visitor guide and magazine.
Aleta Pippin has spent a decade exploring her distinctive and emerging style of colorful and expressive "Luminous Abstraction." The splendor of Pippin's work has remarkable power to engage the viewer as it evokes tranquility or excitement. Pippin's work is striking areas of lush impasto alternate with multiple fields of oil, acrylic, gold leaf, resin and other mediums. Pippin's signature style of intuitive yet decisive brush strokes result in a powerful and perpetual moment in time – "Spontaneous Combustion."
Aleta Pippin states, "When all of the necessary elements come together, Spontaneous Combustion occurs."
Pippin's passion for abstract painting stems from a love of creating her personal vision, a fusion of reality and imagination. "My goal with every painting is to impart an internal expression that flows freely through me in rhythm with the music I'm listening to. My brush or palette knife acts as a vessel through which energy and consciousness flows."
Pippin is always experimenting with new techniques and mediums to achieve a luminous effect of depth and layers of vibrant color. "When collectors view my pieces, I would like them to stand in front of each creation and view it with an open mind, eschewing judgment, accepting each as the unique world expressed."
About Pippin Contemporary Fine Art:
Exciting and Refreshing are the words spoken most often from visitors to Pippin Contemporary where you'll find vividly expressive abstract work - paintings, sculpture, and glass - a sensory experience of color and mood. Located in Santa Fe, New Mexico, just 1/2 block north of the Historic Plaza, you'll find art to enhance your residential and/or commercial environments.
Pippin Contemporary gallery, represents artists Eva Carter, Guilloume, Dennis Johnson, Rose Masterpol, Suzanne Wallace Mears, Aleta Pippin, Nancy Reyner, Gilberto Romero, Aaron David Smith, Alan Soffer, Sandra Duran Wilson, and Thoryn Ziemba. Each artist celebrates life with colorful and authentic insights into abstractions of our reality.
About SantaFe.com:
SantaFe.com provides locals and visitors to Santa Fe alike the most current interactive platform for events, music, arts, business, dining and lifestyle. SantaFe.com is a division of Hutton Broadcasting, located at 2502 C. Camino Entrada, Santa Fe, NM 87507
Contact Information:
Scott Hutton
SantaFe.com / Hutton Broadcasting
http://www.santafe.com
(505) 471-1067 (Media inquiries only, please)