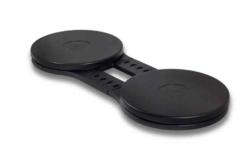 It trains anyone to move like a natural athlete!
Carlsbad, California (PRWEB) September 27, 2012
No longer a trade secret among top athletes, the 8Board, a revolutionary training device is now available to the public. The 8Board utilizes a unique, double-swivel "figure 8" motion proven to improve coordination, balance and flexibility, dramatically cutting learning curves for any sport as well as recovery times for physical therapy. By standing and swiveling on the 8Board, the user's body learns to rotate and pivot on balance.
Inspired by the 20th century philosopher Rudolf Steiner, the science of projective geometry and Tai Chi, the 8Board develops a "figure 8" motion in the hips that expands out to the arms and legs to improve performance in a myriad of sports and activities, including tennis, golf, baseball, martial arts, skiing, surfing, volleyball and more.
The device also aids in injury rehab for hips, shoulders, back and ankles, as well as re-establishing balance for "above the knee" leg amputees. The 8Board has proven success with people with brain injuries, ADD, ADHD and Autism. "The 8Board helped struggling children focus and regain a mental presence, freeing them from the chaos of the level of stimulation they were previously experiencing." Mike Robinson, CA Certificated teacher
Until today, the 8Board was available primarily to elite athletes, including tennis stars, pro golfers, Major League Baseball teams, the Olympic Ski and Snowboard Teams and four-time NCAA tennis champions, USC.
Voted a Top Ten Golf Training Devices by PGTAA, it can be used right on the course to immediately improve a swing. Invented by tennis coaches Jack Broudy and Paul Mayberry, the 8Board has been instrumental in developing many of today's top American tennis players, including Sam Querrey, Steve Forman and Steve Johnson. Broudy and Mayberry worked extensively with the NCAA record setting coach Peter Smith and his winning USC NCAA 2009-2012 Championship tennis teams.
The 8Board is considered the state of the art for all athletes and coaches wanting to excel in their sport or anyone wanting to improve their general fitness. Broudy contends that the 8Board "is essential for any person who wants to feel connected to their body and the world around them. It is the key to being centered and grounded." The 8Board is the only training device that can help anyone develop and engrain the proper "figure 8" body rotation and dynamic balance in just a few minutes a day.
The patented 8Board is the first and only double-swivel device made in the USA. Made of ABS plastic, it is affordable, light-weight, portable, and easy to use for anyone of any age. Able to handle weight up to 1500 lbs., the 8Board is currently used by obesity clinics for weight loss. The revolutionary new 8Board is now available to the public at http://www.8board.com or by calling (888) 750-4987.
Grail Sports, Inc. was founded in Carlsbad, CA in 2000 by professional tennis coaches, Jack Broudy and Paul Mayberry. The company mission is to provide state-of-the-art fitness training devices, education and exercise programs to improve balance, coordination and flexibility among athletes, non-athletes, injured and amputees. Their innovative, patented 8Board device helps people of any age and physical ability master the "figure 8" motion proven to help the body perform both mental and physically at its peak. For more information, visit http://www.grailsports.com