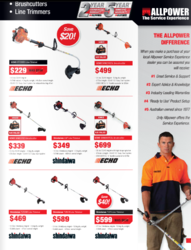 Box Hill, Victoria, AU (PRWEB) September 26, 2012
Allpower, a leading distributor of high-quality power tool and equipment brands with industry leading warranties and service support - has released its latest catalogue of home and garden tools for the spring and summer 2012-2013 seasons. The catalogue has over 50 products, from chainsaws and sprayers to zero-turn mowers and shredders that are eligible for free national delivery to local dealers.
The online catalogue is available to those who visit http://allpower.com.au/promotions.html.
Quality power tools and equipment allow operators to save time, due to greater speed. They also require less effort since an external source of energy is used. Experienced safe operators using power tools and equipment are able to do a job with greater precision and accuracy, avoiding a waste of time and materials. Additionally, confined spaces become more accessible with portable, lightweight electric, air or battery-powered tools.
Allpower products are known as "The tools of choice for the serious gardener, professional contractor and world champion."
The 8-Page 2012-2013 spring and summer catalogue includes:

Power Deals
Package Offers
Online Only Specials
New products: Shindaiwa chain saw model 600, Supaswift lawn mower model 777KC and Supaswift self-propelled lawn mower model 797HSP
Echo's eligible products for free traveller bag with purchase: Echo brushcutters, models SRM235ESL, SRM22GES and SRM265TESL, Echo power pruner model PPT235ES, Echo chain saw model CS550
About Allpower
Allpower Australia offers 30 years of recognised service experience and distributes a high quality product line that includes the five premium brands of Echo, Shindaiwa, Stiga, Supaswift and Country Clipper. Each product comes with 'ready to use' product setup and expert advice and knowledge. Equipment warranties are 2-year for commercial equipment and 5-year for domestic equipment. Financing is available through the FlexiWay program.
Allpower has been Australia owned since 1977, beginning with a small warehouse in Burwood, Victoria under the name of Arien's Echo. Allpower Australia now has a state of the art warehouse facility in Keysborough, Victoria and more than 400 dealers Australia-wide, along with 150 dealers throughout New Zealand.
In 2009, Allpower received an award, as the largest Country Clipper dealer in the world, and Shindaiwa and Echo merged into the now parent company Yamabiko Corporation, selecting Allpower as its distributor for the Australasian market.
Allpower sponsors the "Power to the People" charitable giving program. This program gives Allpower customers the opportunity to allocate points for local schools, clubs and charities for needed power equipment or use the equipment, donated by Allpower in their honor, for fundraisers.