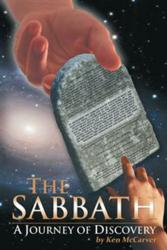 ARLINGTON, WA (PRWEB) September 27, 2012
In his book "The Sabbath: A Journey of Discovery" (published by WestBow Press), author Ken McCarver delves into what he sees as misunderstandings and deceptions concerning the Christian concepts of the Sabbath and resurrection.
With "The Sabbath: A Journey of Discovery" McCarver guides readers through the Bible, offering them his unique perspective. He takes a close look at what mainstream Christianity has long accepted as doctrinal truths, but he examines whether or not these issues align with Scripture. The primary focus of the book examines the Sabbath, exploring the idea that it should fall on the first day of the week rather than the seventh.
An excerpt from "The Sabbath: A Journey of Discovery":
"The Sabbath is central to faith, trust, and obedience; with a message, an attitude, blessings and curses. I believe that it would behoove us to be correctly settled on this matter, to know in our knower and to be witnessed with the Spirit.
We should continually be looking to hear from God, straining to train ourselves to hear a voice we may not be familiar with, filtering through the distortion and confusion of life to hear how he is speaking; 'This is the way, walk in it.'"
McCarver hopes his book encourages readers to seek out spiritual truths. "In reality this book will only find its place in the hands of those who are inspired and driven to know truth," he says. "Those that have a discerning revelation of the level of deception within the church and the perception of God's written word."
About the Author
Ken McCarver, as a serious student of the Bible, has for many years been involved in various ministries and is currently active in jail ministry. He endeavors in the purpose of bringing hope and truth to the troubled and the lost. McCarver and his wife, Wendy, reside in the Pacific Northwest, where they have raised a son and two daughters and enjoy the simple blessings of country living on a small farm.
WestBow Press is a strategic self-publishing alliance of Thomas Nelson, Inc., the world's largest Christian publisher, and Author Solutions, Inc. (ASI) — the world leader in the popular self-publishing industry segment. Through this partnership, authors benefit from the rich publishing heritage of Thomas Nelson and the speed-to-market advantages of the ASI self-publishing model. Titles published through WestBow Press are evaluated for sales potential and considered for publication under the Thomas Nelson imprint. Thomas Nelson, Inc. continues to "inspire the world" with distribution of products in more than 100 countries worldwide. For more information, or to start publishing today, visit http://www.westbowpress.com or call (866)-928-1240. Follow us @westbowpress on Twitter for the latest news.
###