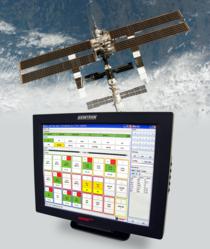 Santa Maria, CA (PRWEB) September 26, 2012
Quintron Systems, Inc. (quintron.com), the recognized leader in interoperable Enterprise-Class Systems for Security Command, Control & Communications, is pleased to announce that NASA has selected the Quintron DICES VoIP mission-critical voice switch for its International Space Station (ISS) support at the Mission Control Center – Moscow (MCC-M) in Korolev, Russia.
SAIC (Science Applications International Corporation) is contracted to NASA to support mission voice communications between MCC-M and the Johnson Space Center (JSC) in Houston. DICES VoIP was chosen to replace an aging legacy system with technology designed to support NASA's needs through completion of the ISS mission. The DICES VoIP system includes 26 new VoIP touch-screen keysets optimized to support the Ops leads, controllers, interpreters and other support personnel at MCC-M. In addition to supporting NASA VoIP keysets, the DICES implementation also seamlessly passes mission loops to the existing Russian mission control system.
Recognizing the need for a fully integrated VoIP solution, NASA's Russian Services Group Manager, Robby Butler, said, "The DICES VoIP system's flexibility to interface with existing infrastructure along with its price/performance made it a clear choice." Robert Pickle, SAIC's Russian Services Manager responsible for implementation of the DICES system, adds that, "Due to a compressed mission schedule and aging legacy hardware, it was imperative that the transition to DICES VoIP be implemented on an aggressive project timeline. Quintron responded with the engineering, training, and delivery support that was essential to our success."
The initial project contact from SAIC was made to Quintron in January with continuous system design review maintained into early February. Key factors included how to interface to legacy connections at the MCC-M and the audio connections back to JSC and NASA Marshall Space Flight Center (MSFC). At that point, it was requested that Quintron supply a demo DICES VoIP system to SAIC in Huntsville to replicate and confirm the design concepts. This system was shipped in late February and testing over the next 30 days confirmed concept validity.
Further discussion through March concluded a final system configuration for actual installation at MCC-M that included 26 touch screen DICES VoIP user keysets plus 6 more software keyset access licenses. Also included was the fully-redundant central DICES VoIP server option along with 4 Gateway servers for T1 interfaces and 6 T1 Multiplexers to integrate legacy analog audio ports. DICES VoIP System Administration clients were also supplied for local access at MCC-M and remote control from SAIC in Huntsville.
To support quick response delivery requested by SAIC, Quintron put the system assembly and test on a fast track with planned date for system completion in early June, barely six weeks after order placement. Expedited deliveries were accomplished from key suppliers to support this objective. Factory Acceptance Test was successfully completed with SAIC personnel in mid-June. System set-up and testing was completed by SAIC in Huntsville with further configuration refinements to support shipment via sea container mid-July.
Following receipt at MCC-M, SAIC engineers started system installation 30 July with initial completion at the end of this week. All legacy connections were successfully integrated into the DICES VoIP system, all new user keysets were installed into existing console locations and initial user training and use went smoothly and remote T1 connections back to JSC and MSFC were brought on-line without incident.
The rapid and successful system integration achieved at MCC-M led to these comments from Greg Steele, SAIC Sr. Network Engineer and project lead responsible for MCC-M design and integration: "The cutover is complete and the system is functioning very nicely. I have a very manageable list of issues to work and may have some questions early next week, but all-in-all, I am delighted! You guys really are good!"
"Project results and comments like these are a tribute to both our products and our employees' commitment to excellence," said David E. Wilhite, Quintron President and Chief Operating Office. "The SAIC team was great to work with under these compressed schedules and their successful integration work at MCC-M certainly highlights their similar commitment to support their customer and their critical mission."
For more information about Quintron solutions and services call 805.928.4343 or visit quintron.com.
About Quintron
For over 42 years, Quintron has provided high technology and cost effective solutions worldwide to government and industry in support of mission critical communications and security requirements for command and control applications. No other company offers the depth of expertise found at Quintron in fault tolerant, interoperable communications, and security systems. In addition to providing advanced products and systems, Quintron's professional technical services capability provides a superior level of customer satisfaction. Quintron's engineering services provide off-the-shelf or customized engineering solutions to solve the toughest of challenges facing customers. Visit quintron.com or call 805.928.4343 for more information.
# # #
The Quintron is a registered trademark of Quintron Systems, Inc.
All other trademarks in this release are the property of their respective owners.