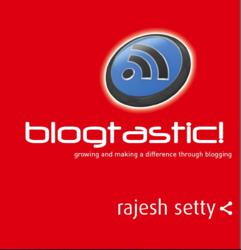 "Skip the SEO tricks and read this book. It'll serve you well in your life and improve your karma too." - Dave Taylor
Sunnyvale, CA (PRWEB) September 27, 2012
Rajesh Setty, a successful Silicon Valley serial entrepreneur, business alchemist and long-time blogger, today released his latest book, BLOGTASTIC!, a free roadmap to help bloggers develop their brand, build a loyal following, and ultimately become a well-regarded thought leader.
Setty has been blogging since 2005, and his career has included founding roles in multiple technology and publishing ventures such as Foresight Plus, Compassites Software Solutions, Jiffle and iCharts. He is a member of the Band of Angels, an award-winning teacher at The Founder Institute, and also mentors for the Thiel Foundation's 20 Under 20 program.
Setty has published more than 1800 blog posts and in the book he shares the lessons he learned along the way about successful blogging. He provides tips and ends each chapter with thought-provoking questions for the reader.
In addition, over 30 expert bloggers share what they wish they had known about blogging before getting started..
Dave Taylor, the leading technology blogger behind AskDaveTaylor.com notes, "Too many people I talk with believe that if they get the right plug-in, the right inbound links, they'll win. But it's about becoming an expert, about wanting to give to the community that truly marks you as an A-list, respected blogger and industry expert. Want to get to the top? Skip the SEO tricks and read this book. It'll serve you well in your life and improve your karma too."
BLOGTASTIC! is available in a free electronic version (courtesy of MobStac) at:
http://mobstac.com/getblogtastic/.
A SlimBook version is also available at:
http://www.slimbooks.com/blogtastic
About Rajesh Setty
Rajesh Setty is a serial entrepreneur and a business alchemist based in Silicon Valley. Setty serves as the president of Foresight Plus where he consults with companies to bring new ideas to life and/or to bring new life to current ideas. Learn more about Foresight Plus at http://www.foresightplus.com