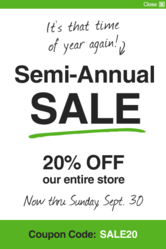 Los Angeles, CA (PRWEB) September 27, 2012
VersaTables, the leader in American-made classroom, office, and medical furniture, has announced that its site-wide Semi-Annual Sale will begin Thursday, September 27 and end Sunday, September 30. All items, including customizable desks, tables, LAN Racks, chairs, filing solutions, storage systems, computer accessories, keyboard trays and drawers, CPU holders, and mobile carts will be offered at 20% off the original price.
"Our desks and tables are popular because they're completely customizable," explains Alex Del Toro, Online Director of VersaTables. "The customer chooses a basic table, desk, or cart, and then can accessorize with any of our hundreds of accessories. It allows them to create the perfect workspace for their unique needs and they never pay for features they don't want."
In addition to the site-wide price reduction, customers can save significantly by purchasing in quantity as well. VersaTables offers quantity discounts starting with only three like items and always offers free shipping on all orders in the continental United States. GSA customers can receive free shipping and the 20% discount in addition to the reduced GSA pricing on all items. In addition, all of the furniture and accessories VersaTables sells comes with a Lifetime Guarantee.
"The Semi-Annual Sale is only four days and it's the only time prices on all of our products are discounted to this degree," says Del Toro. "If you've been thinking about adding accessories to your desk, or refurbishing your work environment, classroom, or home office, this is the time to do it."
VersaTables is a leading furniture company that manufactures all furniture products in the United States, using only American-based raw-material vendors. VersaTables works with organizations such as the Sustainable Furnishings Council (SFC), U.S. Green Building Council (USGBC), and Business and Institutional Furniture Manufacturer's Association (BIFMA) to consistently maintain the highest standards of sustainability.
For more information about VersaTables and its customizable furniture, or to browse the products the company offers, visit http://www.versatables.com.