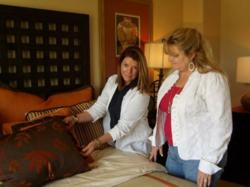 Simply the best hands-on field training available in the marketplace for Home Staging Design Certification Programs.
Washington, DC (PRWEB) September 26, 2012
Kim Kapellusch, Owner and Founder of The Academy of Home Staging is proud to announce, the industries' leading home staging certification training program is coming to Washington D.C., and will be taught by Nicci Parrish, Founder and Owner of Impress Me! Home Staging, LLC Oct 29 - Nov 2, 2012.
Kapellusch, a busy and successful Los Angeles Home Stager says, "I am thrilled to announce the expansion of The Academy of Home Staging into the Washington D.C. market and the addition of Nicci Parrish to our team of Certified Trainers." She continued, "Nicci is one of the leading stagers in this area, she is an instructor and a mentor. Nicci brings tremendous talent, knowledge and experience to share with her students."
In addition to owning and running a highly successful Home Staging business, Nicci is an adjunct instructor at Prince George's County Community College. Here she has taught hundreds of aspiring home stagers in the Washington DC metro area on the fundamentals of starting a home staging business. Inspired by her students' passion to learn more about the home staging industry, Nicci joined The Academy to provide other aspiring home stagers an opportunity to experience a one-of-a-kind coaching and mentoring home staging program.
Nicci is a member of Real Estate Staging Association (RESA) and has been featured in numerous print and on-line publications including the Washington Times Home Guide, Baltimore Home Improvement magazine, and the Washington Post.
There has never been a better time to become a Certified Home Stager. The Real Estate Market is showing concrete signs of turn-around. Home sellers and Realtors are embracing the benefits of Home Staging. According to a study by the National Association of Realtors in 2012, 25% of homes on the market are professionally staged, up from just 5% in 2007. According to a 2012 survey by Home Gain, Home Staging is in the Top 5 items a home seller should invest in in order to sell their home quickly and for the most amount of money. In the same survey Home Gain states Home Staging delivers a 196% Return on Investment to the home seller.
For several years, The Academy of Home Staging's exclusive training was only available in Los Angeles. Now due to popular demand and recent industry expansion in the Home Staging arena, Kapellusch offers students several locations to choose from including Los Angeles, Tampa, Washington DC, New York, Seattle, and Dallas. "We simply had to expand" says Kapellusch. "People were flying in from all around the country. We are adding these cities to help our students achieve their educational goals in a location nearer to them."
The Academy of Home Staging remains committed to consistently delivering the most comprehensive industry leading education available to its students.
Several key factors set The Academy's training program apart from the rest:
The only Advanced Home Staging Certification available - no prior experience or training necessary.

Limited class size (8 maximum students) to provide personalized coaching and mentoring to our students by our Instructors.
All our Advanced Certified instructors are leaders in the Staging Industry who incorporate real life examples, suggestions, advice and ideas in each training class.
Over 10 hands-on exercises including a minimum of 3 in-field exercises. These exercises are crucial to providing students a complete education and insuring the ability to successfully start and manage their own Home Staging business. Home Staging Design is a visual art. It is important to provide tangible discoveries the students can experience in training, before they open their own business.
Student and Instructor experience together, apply and discuss all solutions and approaches for all areas of the design and business aspects to a Home Staging Business.
Student discovery and questions are encouraged in every session.
Complete Business CD for each student upon successful completion of the class, and passing the Certification exam at the end of the class. This CD includes all the critical forms and contracts along with editable advertising pieces.
Committed to the success of every student that comes to The Academy of Home Staging.
Ongoing education, regular Alumni newsletters chock full of new information and tips and access to one-on-one coaching.
Call today to register at 1-800-574-5576. The first four students to enroll will receive a $250 savings off the tuition for this the Oct 29 - Nov 2, 2012 class only.
ABOUT THE ACADEMY OF HOME STAGING: The Academy of Home Staging was founded by Kim Kapellusch in 2005 in the Los Angeles area, and has quickly become the Industries' premier Home Staging and Redesign Certification Training Program. Today The Academy operates in California; Seattle, WA; New York City; Washington, DC and Tampa Bay Area, FL. In addition to its leading classroom certification classes The Academy offers a full CD based course, ongoing education and one-on-one business counseling.
For more information call 1.800.574.5576 or visit http://www.TheAcademyOfHomeStaging.com.