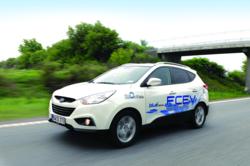 (PRWEB) September 26, 2012
Hyundai Motor Company is leasing 15 zero-emissions hydrogen-powered ix35 Fuel Cell vehicles to the Municipality of Copenhagen, supporting the Danish capital in its efforts to become carbon-neutral by 2025.
This agreement is a 'first' for Hyundai, acknowledged as an industry leader in fuel cell technology and eco-friendly cars, which operates a dedicated fuel-cell research division at its Eco Technology Research Institute in South Korea. Denmark is one of the world's leading countries in the use of renewable energy. The deployment of the ix35 Fuel Cell in Copenhagen's municipal fleet is a perfect match for the two enterprises, and a win-win for both parties.
"We are very proud The Municipality of Copenhagen has chosen us as the supplier of hydrogen vehicles. We consider it as evidence the municipality is aware of Hyundai's leadership in eco-friendly vehicles," said Niels Rønnebech, Managing Director of Hyundai Denmark. "The municipality deserves high praise for leading the way in helping to develop new technology."
Hyundai's ix35 Fuel Cell is powered by hydrogen and is a true zero-emissions vehicle. The Hyundai designed fuel cell stack converts the hydrogen into electricity to turn the cars motor. The vehicle's only emission is water. The ix35 Fuel Cell represents a potential partner for public and private fleets wanting to eliminate carbon emissions, and makes a strong statement of their efforts to fight climate change.
The ix35 Fuel Cell presents the drivability of a conventional car, and the durability to stand the rigors of daily use in public and private fleets. It requires only a few minutes to fill up, has a top speed of 160 km/ph, and a range nearly equal to its petrol-powered sibling.
Hyundai chose the popular ix35 SUV as the first vehicle for its fuel cell commercialisation project. A best-seller in Europe and among the first vehicles to display Hyundai's award-winning Fluidic Sculpture design identity, the ix35 is popular with families and businesses, thanks to its driver-friendly performance and roomy five-passenger seating.
Hyundai has so far spent 14 years – with significant investment – researching and developing hydrogen fuel cell technology. Hyundai's fuel cell program was launched in 1998 with a roadmap targeting commercialisation of fuel cell vehicles by the end of 2012, and consumer sales by 2015.
With Denmark having a well-developed and established hydrogen infrastructure, it is the perfect starting point for fleet rollout of Hyundai's ix35 Fuel Cell. The ix35 Fuel Cell is well-acquainted with the Danish climate, having had two test cars log 45,000 km on Danish roads in recent years.
Hyundai Motor Group Chairman Chung Mong-koo has made the fuel cell program a top priority for the company, leading its efforts to produce eco-friendly mobility solutions and be a responsible corporate citizen.
For more information visit :
http://www.hyundai.com.au/about-hyundai/design-and-innovation/sustainability