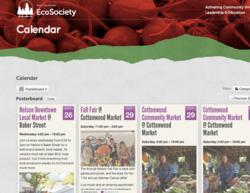 this would save valuable time and effort while making the organization's eco-community events well publicized and successful
(PRWEB) September 26, 2012
The EcoSociety in Nelson BC has launched it's website Community Calendar, a great way to promote the events the organization creates every year in the city and in the region. David Reid, Executive Director of the EcoSociety, has said that it can be a challenge to ensure events are posted in all the best locations; social media, online local news, the classifieds, posters and flyers... each item takes time to create and distribute. As an organizer, David has always wanted a well-designed calendar to showcase events, one that everyone would know to check, and that it would be a tool that could connect with and feed events to other media automatically. He knew this would save valuable time and effort while making the organization's eco-community events well publicized and successful. He is pleased to see this vision in action, now that the Timely All-in-One Event Calendar is installed on the EcoSociety website.
The EcoSociety is interested in developing long term, sustainable solutions to global environmental issues as well as working to protect the natural environment of the West Kootenays. Campaigns like Jumbo Wild (to preserve the Jumbo Pass in it's natural state) and another to protect the Incommapleux Valley from an Independent Power Project development, are key aspects of the Society's work. To create an ecologically sustainable future, the Society has created numerous local craft and food events to support the development of bioregionalism. The Society also runs the Kokanee Creek Park Visitors Centre, site of the annual Kokanee salmon run, and has developed community learning activities there. Friends of Kootenay Lake is another community group that the EcoSociety supports from its webpage.
The Community Calendar highlights the events from each of these types of programs, whether they are directly organized by the EcoSociety or by others who care about the community and the environment. The Posterboard layout makes the Calendar into a colourful noticeboard with photos and information about each offering. A viewer can filter the Calendar to show particular events, such as only Markets or only Kokanee Visitor Centre events. Workshops and presentations are all listed, so that the EcoSociety Calendar becomes a node in an extended network of educational, fun, environmentally focused and sustainable activities in the area.
The Timely Calendar system also allows the EcoSociety to automatically publish every event to social media, and makes events accessible by Google search. Already they are seeing that this easy access to the event listings has increased attendance and the awareness of local issues.
Some of the EcoSociety's upcoming events include:
Nelson Market - Sept 26th 2012
Join us every wednesday from 9:30 to 3pm on Nelson's Baker Street for a festive and eclectic local market. All vendors must sell at least 80% local product. You'll find everything from local produce to jewelry to hot food and much more.
Eco Society Fundraiser & Membership Drive - Oct 19th and 20th 2012
A mix & mingle celebration of local food and farms, featuring locally-sourced snacks, beer and wine. $10 at the door benefits EcoSociety's programs. Become a member and get in free, or bring someone who becomes a member and its free for both of you!