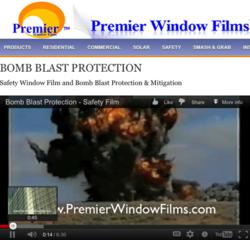 www.PremierWindowFilms.com
Bethesda, Md (PRWEB) September 26, 2012
Two weeks after the devastating Sept. 11-anniversary Islamist terrorist attack on the U.S. Consulate in Benghazi, Libya, that killed the U.S. ambassador and three other U.S. officials, Islamic protests that began in Cairo continue to spread around the globe, threatening American interests inside and outside the United States and spotlighting a newly released security film providing important information about protecting personnel and property from explosives and other attacks.
The video, "Bomb Blast Protection – Safety Film," focuses on the protection of windows in office buildings through a new technology called Safety Window Film, which defends personnel and property from the hazards of broken glass. Airborne glass shards injure and kill people in office buildings while damaging property in and around the area of a terrorist attack or natural disaster.
Airports, schools, corporations and government agencies including the U.S. Energy Department and Federal Bureau of Investigations headquarters are using the Safety Film to contain glass, hold it in place and keep broken glass from flying in the event of a bomb blast. The U.S. Capitol and a number of other government buildings began using the protective window film after the September 11, 2001, attacks.
As global Islamic protests at U.S. embassies continue, U.S. agencies are warning that terrorist groups are eagerly exploiting anti-Islam film anger to advance their recruitment efforts and target U.S. interests at home and abroad. According to the Joint Intelligence Bulletin issued by the FBI and the Department of Homeland Security, first-responders should prepare for spontaneous, large protests that could overwhelm resources and turn violent.
Rigorous tests, including bomb-blast tests, prove that Safety Film treated glass stays in the frame under the most extreme conditions, keeping glass in place even in the worst storm conditions involving heavy wind debris and in powerful explosions. Government and business leaders are looking for new ways to protect their people and property. Premier Window Films, Safety Film, keeps office workers safe, reducing the number of insurance claims and hospital visits.
Safety Film / Security Film, also known as Blast Mitigation Film: This term is used to describe a film used for blast protection and is most commonly used by the military. Sometimes simply referred to as "blast film".
Glass Fragmentation Film: This term is mostly used by the military an describes a film to reduce the damage caused by glass fragments:
Premier Window Films also supplies, window tint, window film, solar film, low e window film
For more information and to view the video, readers should visit the safety film website: PremierWindowFilms.com.