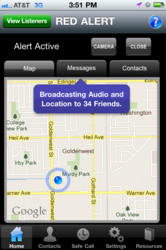 "Rapists and abusers thrive on isolation, lies, and confusion. Putting them on record takes away everything that they need to victimize others." -James Medina
Newport Beach, CA (PRWEB) September 27, 2012
RealHelpApp.com has recently been updated with RealHelp's larger social goal of creating a world with less rape, abuse, and victimization.
In a recent addition to their FAQ, RealHelp has addressed the question: "Does RealHelp have a goal, and how can I help?" RealHelp's answers in short are "a world where fewer people are sexually assaulted, abused, or otherwise victimized; and where those who are victimized have an easier time getting help" and "all you have to do is use RealHelp on your phone". While the goal may seem a little ambitious for an iPhone app, the RealHelp team thinks that it's achievable with widespread adoption of the RealHelp app. RealHelp's founder, James Medina, explains it thusly: "We've created RealHelp to target that moment when a person starts to worry about their situation, but isn't quite sure how to get help. It's too early for 911 since the person isn't yet able to identify an emergency, but calling a friend or just shouting for help risks not getting a response. So RealHelp essentially calls all of your friends at once, lets them know that you need help, and gives them the tools they need to react. With one touch, a RealHelp user can trust that he or she has been heard by people who care enough to respond. We think that option, at that critical time, can make all of the difference. Rapists and abusers thrive on isolation, lies, and confusion. Putting them on record takes away everything that they need to victimize others. So we think that the only thing we need to get us to the world we want to create is a few million more RealHelp users. That may seem like a lot, but we are literally just giving it away for free."
RealHelp's goals go so far as larger cultural change. RealHelp's response includes: "When people feel like they can reach out to their friends effectively when they're in trouble, and people feel responsible for the safety of their friends; we feel that we'll have a culture where rape and abuse are less likely to happen." The RealHelp team feels that just setting up emergency contact networks on RealHelp can help knit people together more tightly. Of course, their goals depend heavily on greater awareness and usage of RealHelp.
When asked if RealHelp had any other goals it would like to achieve, Mr. Medina had this to say: "Of course we'd love donations to grow along with usership to cover the costs involved in running RealHelp, but this project is more about pre-emptively changing lives than it is about money. At the very least, we'll call all of the time, money, and work that's gone into RealHelp worthwhile if we can keep one person from being victimized."
Those interested in joining in RealHelp's "grand vision" of a world with less rape and abuse can learn more about RealHelp at RealHelpApp.com, or just download it straight from the iTunes App Store.
About The RealHelp App
The RealHelp App heads off potential emergency situations by instantly notifying dozens of preselected friend and broadcasting audio, location, and pictures to them in real time. RealHelp is available fully featured and free for the iPhone in the iTunes App Store. It's supported through in-app donations by RealHelp users. RealHelp is ad-free since ad servers would slow down the app. There's a graphic guide to how it works here: How RealHelp Works, and plenty more information at RealHelpApp.com