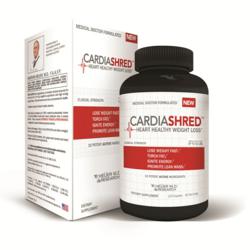 I created a formula I personally could use and feel comfortable with on a regular basis, knowing it was formulated to be a healthy addition to my daily routine.
Orlando, FL (PRWEB) September 27, 2012
Heuer M.D. Research Inc., announces the international launch of CARDIASHRED™, the first Medical Doctor formulated, heart healthy weight loss, lean muscle building and energy product formulated for all adults, elite athletes and bodybuilders.
Partnered with GNC, one of the nation's largest specialty retailers of health and wellness products, is presenting CARDIASHRED™ in its internationally visible forum at the Joe Weider's Mr. Olympia Fitness and Performance Weekend 2012 in Las Vegas, Nevada. CARDIASHRED™ is currently available at GNC stores in the US and through GNC.com and LuckyVitamin.com for online sales.
The Mr.Olympia Expo attracts over 30,000 bodybuilding and fitness athletes and fans from all over the world. Athletes, celebrities and industry icons along with general health enthusiasts will descend on Las Vegas for the biggest industry event of the year. Events include Mr Olympia, Ms. Olympia, Bikini Olympia, Figure Olympia, Fitness Olympia, Powerlifting Championships, Grappling Olympia, men and women model searches, kickboxing, arm wrestling and the Olympia Strongman Challenge.
CARDIASHRED™, a 5 in 1 thermogenic supporting weight control, energy ignition, calorie burning, heart health and lean muscle building.
Heart disease remains the number one cause of death in Americans. Centers for Disease Control and Prevention in Atlanta show that heart disease causes almost 25% of deaths - Almost one in four -in the United States.
Obesity has reached epidemic proportions in North America. According to U. S. Centers for Disease Control and Prevention almost 37%, more than one third, of U.S. adults are obese. Obesity related conditions include heart disease, stroke, type 1 and type 2 diabetes and certain types of cancer are some of the leading causes of death. In 2008 the medical costs associated with obesity were estimated at $147 billion. During the past 20 years there has been a dramatic increase in obesity in the U.S. in children and in adults. It is essential that the people begin to focus more on nutrition and general health.
Heuer M.D. Research continues to emphasize the importance of diet and exercise in every American's life. We encourage better daily diet control, lower calories, decreased and improved carbohydrate sources and a regular daily exercise regimen. This is too important to put off until later. However, even elite athletes and bodybuilders are at a higher risk of sudden cardiac events and death. Studies show that elite athletes have slight increased cardiac markers of inflammation and may be prone to cardiac issues even more than the general population.
We also suggest CARDIASHRED™ for those active individuals who want a synergy of over five clinically proven weight loss ingredients in addition to 15 heart healthy vitamins and minerals at up to 150% of U.S. RDA. CARDIASHRED™ is a source of omega 3's (fish source), CoQ10, betaine, piperine, grape seed extract and other ingredients for heart healthy calorie burning and added potent daily energy. CARDIASHRED™ also helps support and grow lean muscle mass. CARDIASHRED™ has 32 ingredients, all in active amounts! It is also formulated to help conserve and even add lean muscle in sarcopenic and catabolic situations and in individuals with proper calorie controlled diet and exercise regimens.
Importantly, CARDIASHRED™ is medical doctor formulated by one of the foremost experts in pharmaceutical and nutraceutical research and development and a physician licensed to practice medicine. Marvin A. Heuer, M.D. F.A.A.F.P., is a well respected research physician with over 30 years experience in international and domestic clinical research and pharmaceutical and nutraceutical development. Along with the practice of medicine, Dr. Heuer has served as Vice President and Worldwide R&D Director for companies such as Integramed America, SmithKline Beecham Pharmaceuticals (now GlaxoSmithKline), Wallace Laboratories (MedPointe), Ayerst Laboratories (now Wyeth/Pfizer) and Chief Scientific Officer for Iovate Health Sciences International (Muscletech).
Says Dr. Heuer, "Our health is our most important asset. It is essential all individuals consider proper diet and exercise on a regular basis in their lives. I highly recommend the use of CardiaShred™ on a daily basis for all individuals requiring assistance with healthy weight loss and a boost in energy along with preservation of lean muscle. I specifically included multiple clinically studied and proven weight loss drivers such as Advantra Z® (citrus aurantium), CQR-300® (cissus quadrangularis), Caffeine and Green Tea(EGCG). Omega 3 (fish source), CoQ10, and other ingredients as well as anti-oxidants provide support for heart health. Even for people already at a good weight, CardiaShred™ can help reduce daily cravings and increase energy while providing an excellent supply of key heart healthy vitamins. I created a formula I personally could use and feel comfortable with on a regular basis, knowing it was formulated to be a healthy addition to my daily routine."
CARDIASHRED™ is made of pure USP ingredients and manufactured in Good Manufacturing Practice (GMP) certified facilities in the United States. The product is sold as a full one month supply (120 caplets). Dosing is just two coated caplets two times daily, once in the morning. once in the afternoon. On trainig day, take 30 minutes before workout.
For more information on CARDIASHRED™ and a full ingredient listing along with research references and full product information and warnings and precautions, visit CardiaShred.com or call 877-7CARDIA (877-722-7342).
About Heuer M.D. Research, Inc.
Based in Orlando, Florida, Heuer M.D. Research, Inc., focuses on providing cutting edge nutraceutical and cosmeceutical products for better and healthier living. Products include weight loss, energy, muscle building, improved bones and joints, sleep, memory and skincare.
Twitter: @docheuer | Facebook: facebook.com/cardiashred | Email: media12(at)chi-inc(dot)co
About GNC
GNC Holdings, Inc., headquartered in Pittsburgh, Pa., is a leading global specialty retailer of health and wellness products, including vitamins, minerals, and herbal supplement products, sports nutrition products and diet products, and trades on the New York Stock Exchange under the symbol "GNC."
As of March 31, 2012, GNC has more than 7,700 locations, of which more than 5,900 retail locations are in the United States (including 928 franchise and 2,146 Rite Aid franchise store-within-a-store locations) and franchise operations in 56 countries (including distribution centers where retail sales are made).
Web: GNC.com | Twitter: @GNCLiveWell | Facebook: facebook.com/GNCLiveWell