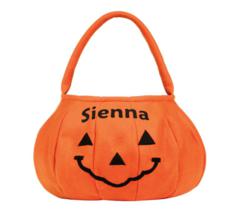 They're perfect for Halloween trick or treating, and are nice and big so fit lots of candy!
(PRWEB) September 27, 2012
Identity Direct, an online personalized gifts website, known for their successful My Adventure Books range, now stock personalized Halloween gifts.
Linda Greene, co-founder of Identity Direct says "Halloween is great fun for kids. They get to dress up, and enjoy the magic and mystery that Halloween brings. We just wanted to help add to the magic of the night." Observed worldwide on October 31, Halloween gives kids the chance to dress up, go trick or treating, create jack o lanterns, bob for apples, and many other great activities.
"This Halloween we've got brand NEW personalized pumpkin bags. They're perfect for Halloween trick or treating, and are nice and big so fit lots of candy!" says Greene. "As with all our personalized gifts, kids will just love to see their names on their own personalized pumpkin bags." These personalized pumpkin bags are now on sale. "We need to allow up to 2-3 weeks for the products to be personalized and delivered in time for Halloween. Be sure to get in quick, because we're expecting these to sell out quick!"
Identity Direct don't just stock products suitable for Halloween. They carry gifts that are perfect for Christmas, Birthdays, New Borns and Father's Day, all personalized with people's names, dates and other details. "Our most popular range of products is our personalized Christmas gifts" says Greene. Identity Direct's Christmas range includes personalized Christmas decorations, Santa sacks and many other great Christmas products.
About Identity Direct
Identity Direct is the world's leading supplier of personalized children's products. We create products that bring magical, memorable moments that will live in the hearts and minds of you and your children forever. All our products are individually personalized for you and, having been in business since 1992, we're experts in personalization. We appreciate the joy our products bring you and we take seriously our responsibility to provide you with great quality products, matched with unrivalled value and superior service.
We're also partners with some of the biggest children's brands in the world – including Disney, Marvel, Sesame Street and Nickelodeon. These partnerships let us combine the uniqueness of personalized gifts with the magic of your children's favorite characters. If unique, memorable and magical is what you're looking for in a gift, we can help!