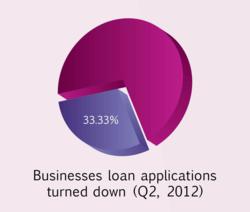 (PRWEB UK) 28 September 2012
The British Chambers of Commerce said the SME Finance Monitor figures showed there are still serious obstacles for many companies seeking external finance. But if the wracked economy is to wriggle out of the crisis, it is inevitable for SMEs to have access to funding. The question is how.
Business Loans – no strings attached
Social business loans from encash is the ray of hope for SMEs who are turning their backs on bank finance. With encash unsecured loans with no personal guarantees, the ambitious owners of small businesses can take the bull by the horns. SME businesses can borrow money directly from the large community at encash. Those with a good trading history in the past 3 years need not go through the hassles of borrowing from banks anymore. They can now get quick funds within a matter of days. Insightful underwriting processes and stringent credibility checks make encash a much safer platform.
With very few exceptions, all of the largest companies in the world started life as small businesses, which through a supportive platform and access to timely capital, turned into giants. encash looks forward to making a change for UK SMEs.
Contact details:
PR Contact: Nitasha Jain, Marketing Manager, ext. 402, marketing(at)yes-secure.com
Checknet House, 153 East Barnet Road, Barnet, EN4 8QZ | Phone: +44 - 871 - 221 - 8410
YES-secure.com Limited registered in UK, Registered number is 06785381
YES-secure has received credit licenses from the Office of Fair Trading (Registration Number 631278), and is registered with the Office of the Information Commissioner (Registration Number Z1960081).