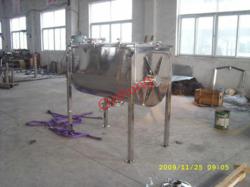 Jinhu, Jiangsu Province (PRWEB) September 27, 2012
Ginhong is the leading supplier of various types of mixing and emulsifying machines on both the domestic and international levels. The company began small but quickly grew to be one of the premier providers of the single and triple shaft mixer.
The LD ribbon mixer is a single shaft mixer that is manufactured by Ginhong. This type of machine is generally used to create dry powder or low-viscosity pastes and some liquids which are used in the making of substances in many industries. Pharmaceutical, cosmetic, food and chemical industries use this type of single shaft mixer in the production of their products. This particular type of mixer is used for mixing solids with other solids or solids with liquids.
One of the features that companies appreciate about the LD ribbon mixer is that the entire process of mixing and blending can be completed in a single unit. It also has a shorter batch time since it uses contra mixing ribbons. Ginhong specifically designs the ribbon mixer to comply with cGMP regulations. It also is designed so that it is very easy to operate.
Ginhong will continue to offer quality and reliable mixers and machines to customers around the globe. They carry storage tanks, the triple shaft mixer and high shear mixers. Their full line of equipment can be viewed on their main site at http://www.ginhong.com/.
About Ginhong
The company opened its doors in a small facility in Jinhu, Jiangsu Province. Ginhong quickly outgrew this facility and had to relocate to a larger facility. The company has a full staff of engineers who do their own research and then design and manufacture a complete line of mixers and emulsifiers. Several different industries use the machines in their production of various useful products. Emulsifiers produced by Ginhong are used by pharmaceutical, food, cosmetic and chemical companies.