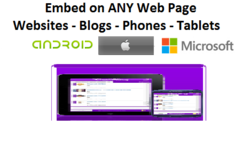 Cambridge, MA (PRWEB) September 27, 2012
Across the Internet, many professionals believe that webinars are great ways of relaying information to hundreds and thousands of clients. One of the most common reasons pointed out is a webinar's accessibility. Through a webinar, clients don't need to visit physical office spaces—they just need to enter a webinar maker's website and wait for the presentation. The Chatwing Development Team has decided to offer a 'stretch' to webinar functionality by introducing a website chat widget capable of strong global communication. The Chatwing app has been introduced in other blogging communities and has received mostly positive feedbacks.
Niche bloggers were the first ones who have used the Chatwing free chat box. The goals of these bloggers were to improve online presence, expand social networks, and create a stable subscriber base that will remain strong for years. The Chatwing app has delivered these results in just few weeks and months. The Chatwing shoutbox appears as a simple micro-chatroom, but it has the capability to entertain up to one thousand users in real-time. Additionally, visitors can also log in with their respective Facebook or Twitter accounts.
Installing the Chatwing free shout box to any blog is easy. First, the user must register his blog's domain name, and he must also register his email address. This only takes a few seconds. After that, he will be prompted to select from Chatwing's three form factors or shoutbox styles. Next, he can now edit the overall appearance of the shoutbox—any color and size is possible. The user can also add unlimited number of chat boxes and moderators.
Chatwing's developers have always geared the chatbox for excellence. To make this statement a prolonged reality, the developers are planning to create new developments. With this, more people will gain successful communication leverage within the least possible time. Aside from webinar makers, bloggers can create a steady subscriber base.
About Chatwing.com
Chatwing.com specializes in the new field of website chat. Over years, the Chatwing team has introduced live chat widget for hundreds and thousands of blogs. The Chatwing application bridges people from many parts of the world, creating global synergy through the Internet. The shout box can be installed in just seconds, and it can be used for varying purposes such as leisure and Internet marketing. It also allows a user to customize the size, color, and name of the widget. Chatwing is 100% free for everyone.