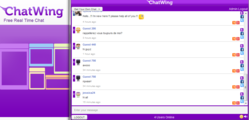 Dallas, TX (PRWEB) September 28, 2012
Podcasting is still one of the most highly-regarded online activities of today, according to global statistics. Many podcast blogs are being created on a daily basis, yet most of them are struggling to gather a stable rate of online presence. The Chatwing Development Team has presented a quick and professional solution in the form of a website chat box. This chat application can be installed to most blogs and websites, and also utilizes a very easy installation mechanism. Social media sharing is also empowered by the Chatwing chat app.
Visitors of podcast blogs tend to look for music that fits within their tastes. The Chatwing team has recently observed that podcast visitors comprise a large section of the Internet. As the team introduced the recent version of the free shout box, many podcast users have remarked about its easy installation mechanism. Many of them preferred the default purple theme, while others experimented with different colors. Bloggers who have used the Chatwing app noted varying spikes in visibility, usually ranging between 50 and 80%.
The Chatwing team has first introduced the free chat box in prominent blogging communities, such as Livejournal and Wordpress. In these communities, the Chatwing app received positive feedbacks and reviews. In the coming months, Chatwing will reach out to forum sites, social networking site creators, and other niche communities.
The Chatwing chatbox will be subjected to more platform developments. In this way, people will be able to utilize the communication strength offered by the Chatwing app. Also, the Chatwing team is maintaining a Facebook page and a series of blogs, available to thousands of users worldwide.
About Chatwing.com
Chatwing.com specializes in the new field of website chat. Over years, the Chatwing team has introduced live chat widget for hundreds and thousands of blogs. The Chatwing application bridges people from many parts of the world, creating global synergy through the Internet. The shout box can be installed in just seconds, and it can be used for varying purposes such as leisure and Internet marketing. It also allows a user to customize the size, color, and name of the widget. Chatwing is 100% free for everyone.