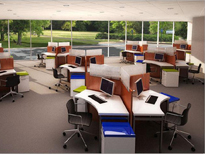 Access to great workspace from $1 a day is available. You just have to know the people who know.
(PRWEB) September 27, 2012
The idea is that, by using this on demand workspace web portal, you will have access to executive suites, coworking spaces, 3rd place locations and business lounges in thousands of new locations all over the world. Partnerships with companies such as Regus who have over 1,000 business lounges in 450 cities in 75 countries around the world, including some airport lounges, has only added to the appeal of this unique offering. It's incredible to think that for less than the price of 3 Starbucks coffees a month you can now get almost unlimited walk-in access to sit down work areas, with complimentary Internet and refreshments (coffee and tea).
Kostastina Fotiou from Your Office Agent agreed that this is an important additional offering to all clients of Your Office Agent, small and large, who can now really embody the whole working on demand principle. The idea behind working on demand is that use of an office is more about function of the clients need than the old way of thinking about office space. Now Your Office Agent can satisfy all these functions from home working to office working and everything in-between.
If you travel frequently and need reliable places to work that are more private and secure than public hotspots, or if you are one of the 1 billion mobile workers in this world and want to work away from your home some of the time or if you just want to work smarter, lower your outgoings and improve your work life balance then contact the team at Your Office Agent on 800 600 0881 or contact(at)yourofficeagent(dot)com. Offer details can also be found online at http://www.yourofficeagent.com