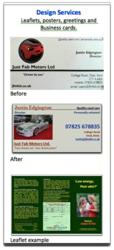 A unique feel to your business look.
Cardiff, UK (PRWEB UK) 28 September 2012
Chris Langley has been painting for over 30 years. His on-line gallery was launched in February 2012 and since then he been promoting and exhibiting my work; He says "I have a range of styles that can be seen on my on line gallery."
"I like to be challenged and see variety as a way to expand my horizons. People say my portrait of pets and animals are quite unique, and make a very special gift" A private viewing was held at The Islington Arts Factory in London in addition to paintings being displayed in a number of hotels and restaurants throughout South Wales.
Building on various invitations for his paintings to appear in publications, it was suggested to Chris that he launches a design service. Chris is now helping small companies and individuals with leaflets, business cards, posters and web design. Chris also has over fifteen years experience in designing advertisements.
In June 2012, Chris won a place at the Islington Art Summer Salon exhibition in London. Also, to celebrate the London 2012 Olympics, Chris painted 'Time to Shine'. Chris welcomes enquiries for his designs, original works and prints.
Chris Langley's artwork is sponsored by Matol Km, a natural herbal drink that Matol customers say gives them more energy and better skin.