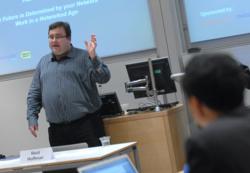 "Big data means big business," said Jim Hall, Executive Director of the Centre for Entrepreneurship and Innovation
(PRWEB UK) 28 September 2012
'Big data means big business' says Jim Hall, Executive Director of the Centre for Entrepreneurship and Innovation at the School. 'We can now store and analyse huge amounts of data efficiently and this is creating a new range of opportunities for companies in terms of understanding the behaviour and preferences of their customers – and acting upon the information. The challenge is to make big data actionable, whilst maintaining security and privacy, within a time frame that provides a commercial benefit, as the analytic value of data decays very rapidly.'
The underlying focus of SVCO is always concerned with how companies create value by changing the rules of the game; how entrepreneurs identify opportunities; the challenges of getting to scale; and what Governments can do to help start-ups grow. This perspective will inform the discussions of big data. Faculty from across the University will contribute leading-edge thinking on big data issues and the results of a big data survey will be presented.
In the main auditorium, high profile speakers will focus on hot topics in short 20 minute sessions, using live examples. These high-impact action-oriented talks will help participants identify new opportunities, reframe their business challenges and give them practical ideas that they can use to accelerate solving their big data problems. At the heart of the event are parallel streams of masterclasses, where thought leaders share their personal insights into starting, scaling and running technology companies with the next generation of entrepreneurs. Small, informal, interactive workshops where participants operate as mini think tanks, will explore the opportunities and challenges of building technology sector businesses. Conversation walls will be built up over the day, stimulating debate and encouraging participants to forge connections.
A series of Fringe events will take place over the previous weekend (17/18 November) culminating in an Oxford Union debate on the Sunday evening.
Speakers include:

Padmasree Warrior, Senior Vice President, Engineering and Chief Technology Officer, Cisco. Listed by the San Jose Mercury News as one of the '2011 Valley's Most Powerful Women' and by Fast Company as one of the '100 Most Creative People in Business'.
Steve Blank, Serial Entrepreneur, thought leader and writer on Customer Development for startups ('The Startup Owners Manual', 'The Four Steps to the Epiphany')
Tyler Bell, Director of Product, Factual
Stephen Sorkin, VP Engineering, Splunk
Rob Reed, Worldwide Education Evangelist, Splunk
Bob Goodson, Co-founder, Quid
Damian Black, Founder and CEO, SQLstream
Michael Chui, Senior Fellow, McKinsey Global Institute
Tony Stubblebine, Co-Founder and CEO, Lift
Justin Moore, Co-Founder and CEO, Axcient
Santosh Jayaram, Co-Founder, Daemonic Labs
Kulveer Taggar, Co-Founder, Tagstand
Salim Ishmail, Founding Executive, Director Singularity University
Patrick Chung , Partner, NEA
Jonathan Heiliger, General Partner, North Star/ex-VP Technical Operations, Facebook
Gary Lauer, Chairman and CEO, eHealth.com
David Frigstad, Chairman, Frost & Sullivan
Rich Goldman, VP Marketing & Strategic Alliances, Synopsys
To register to attend, or for further information please contact the press office at Saїd Business School:
Clare Fisher, Head of Press Relations, Saïd Business School, Mobile: +44 (0) 7912 771090 ; Email: clare.fisher(at)sbs.ox.ac(dot) uk
Josie Powell, Public Relations Coordinator, Mobile +44 (0)7711 387215
Tel: +44 (0) 1865 288403 Email: josie.powell(at)sbs.ox.ac(dot)uk or pressoffice(at)sbs.ox.ac(dot)uk
Notes to editors:
1 About Silicon Valley Comes to Oxford
Now in its twelfth year, Silicon Valley Comes to Oxford bridges two world centres of ideas to explore the big issues and future directions of innovation and entrepreneurial phenomena in a vibrant and fast paced mix of masterclasses, panel debates, plenaries and networking events. The leading European entrepreneurship forum, pioneered by the University of Oxford's Saïd Business School, brings business leaders and luminaries from across Silicon Valley and beyond to Oxford for a period of focused interaction with faculty, research and student members of Oxford University and the British entrepreneurial ecosystem.
Silicon Valley comes to Oxford 2012 will once again have an impressive line up of visiting VIPs from the Valley and beyond, including established entrepreneurs, founders of start-ups, venture capitalists and funders, theorists and policy influencers. A wide range of technologies and trends will be explored, providing the opportunity to identify future directions.
2 About The Centre for Entrepreneurship and Innovation at Saïd Business School
The Centre for Entrepreneurship and Innovation is the focal point for entrepreneurship research, teaching and practice at the University of Oxford.
The Centre brings together academics, spinout- and student-entrepreneurs, for the study and practice of entrepreneurship and is the doorway to the over 2,000 high-tech companies in and around Oxford. Its programmes and events combine research on and practical teaching of entrepreneurship to support entrepreneurs and high-growth companies.
Students on the MBA and the Executive MBA have access to a broad range of electives, project work, a venture fund, student societies, such as Oxford Entrepreneurs, and open programmes to build up their understanding of entrepreneurship and innovation whilst studying at Saïd Business School. Many MBA entrepreneurship projects evolve into successful new ventures, and Saïd Business School alumni companies now number over 150. About one in ten of the School's MBAs leaves to set up a new venture upon graduation and the Centre has created a vibrant community of entrepreneurs and spin-outs connected to the School that enriches our offerings for students and outside firms alike.
In entrepreneurship research the Centre's faculty brings a distinct focus on the social and cultural dimensions of business in the twenty-first century to researching and teaching entrepreneurship, and use a range of non-traditional disciplinary lenses to look at techno-economic phenomena in their cultural contexts. By drawing on Oxford University's distinct intellectual heritage the Centre's faculty uses a range of theoretical frameworks and intellectual perspectives to reflect the complex nature of entrepreneurship and innovation, including examining the social, economic, cultural, and political structures that help transform ideas into products.
3 About Saïd Business School
Established in 1996 the Saïd Business School is one of Europe's youngest and most entrepreneurial business schools with a reputation for innovative business education. An integral part of Oxford University, the School embodies the academic rigour and forward thinking that has made Oxford a world leader in education and research. The School has an established reputation for research in a wide range of areas, including finance and accounting, organisational analysis, international management, strategy and operations management. The School is dedicated to developing a new generation of business leaders and entrepreneurs and conducting research not only into the nature of business, but the connections between business and the wider world. In the Financial Times European Business School ranking (Dec 2011) Saïd is ranked 10th. It is ranked number one in the UK (7th worldwide) in the FT's combined ranking of Executive Education programmes (May 2012) and 20th in the world in the FT ranking of MBA programmes (Jan 2012). The Oxford MSc in Financial Economics is ranked 4th in the world in the 2011 FT ranking of Masters in Finance programmes (June 2012). In the UK university league tables it is ranked first of all UK universities for undergraduate business and management in The Guardian (May 2012) and has ranked first in eight of the last nine years in The Times. For more information, see http://www.sbs.ox.ac.uk/
4 About Innovation at Oxford
The University of Oxford is the oldest university in the English-speaking world, in line with its pre-eminence as a world centre of new knowledge, ideas and innovation.

Oxford University researchers have won over 50 Nobel prizes.
Oxfordshire is one of Europe's leading centres of enterprise, innovation and knowledge. At the end of 2004, there were over 3,500 high-tech firms in the county employing 45,000 people.
The University of Oxford has produced over 70 technology based spin-out companies and has received over £80 million for the sales of shares in spin-outs.
The University's portfolio of 49 companies is currently valued at around £32 million (November 2009) and employs 900 employees. The total market capital of these companies is £514 million.
During the financial year 2008–2009 as a whole, total funds raised by the University of Oxford's (unlisted) spin-outs was £42.7 million.
Oxford Entrepreneurs is one of the largest student entrepreneur societies in the world, with over 7,000 members. One of its 40 start-up companies was sold in 2008 for US$5 million, and others raised over £1 million in seed funds last year.
The Oxford Centre for Entrepreneurship and Innovation offers access to over 50 entrepreneurship events a year.
Leading soft innovation companies formed by Oxford University graduates include McKinsey & Co, Pizza Express, Majestic Wines and Lastminute.com.