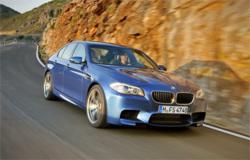 Men like cars that are comfortable, women like cars that are fun to drive.
Torrance, CA (PRWEB) September 27, 2012
Both men and women have loved the automobile since Henry Ford first said, "People can have the Model T in any color—so long as it's black." And cars, according to autoMedia.com, have been instrumental in uniting the sexes ever since. In honor of that, the expert editors from autoMedia.com, a premier provider of new car reviews and car care advice, have selected the top 10 real-life manly-man cars women love, too.
"Men like cars that are comfortable, women like cars that are fun to drive," said Ryan ZumMallen, associate editor for autoMedia.com, "and gender norms are no longer the indicators they once were when it comes to who's going to buy what car."
Hundreds of new cars and trucks are available for sale today at dealers nationwide. Plenty combine excitement with practicality at a reasonable price. Here are some select models from autoMedia.com's Top 10 Real-Life Manly-Man Cars Women Love, Too:
Audi S6
The 2013 Audi S6 is a scorching luxury saloon that somehow blasts its way to 60 mph in just 3.7 seconds. The S6 brings 420 horsepower and quattro all-wheel drive together to create one of the best blends of performance and utility the world has ever seen. Equally as important as the power is the 2013 Audi S6 diet, which should be published and shelved in Self Help sections across the country. The 2007 S6 weighed a whopping 4,528 lbs., heavy even for a mid-sized luxury sedan. By contrast, the 2013 Audi S6 has dropped nearly 300 lbs. and checks in at a respectable 4,255.
BMW M5
The S6 is indeed a great car, but the BMW M5 is the original performance sedan—and BMW comes correct once again with the newest iteration of an icon. This time around, a potent 560-horsepower V8 engine provides the grunt work while the seven-speed dual-clutch transmission delivers a smooth automatic or dynamic manual mode. Power is surely important, but the M5 sets itself apart with unmatched throttle response, steering precision and driving excitement.
Cadillac CTS-V Coupe
Fortune favors the bold, which is great, because there is absolutely nothing subtle about the Cadillac CTS-V Coupe. Its angular design is a constant threat to give onlookers whiplash, and the sound from the 556-horsepower V8 is an American triumph. Cadillac wanted to make the CTS-V Coupe capable on demanding turns, as well, and outfitted it with its heralded Magnetic Ride Control for a smooth drive that's truly befitting the "Standard of the World" motto.
For the remaining vehicles and a summary of each, visit Top 10 Real-Life Manly-Man Cars Women Love, Too. For more information, follow autoMedia.com on Twitter and Facebook, as well.
About autoMedia.com: The auto website was launched in September 2000 by a team of automotive editorial, design, and publishing professionals, with the goal to be the premier provider of quality automotive content on and for the Web. Today it features over 92,500 pages of original articles, including over 2,500 features researched and written by leading automotive experts, covering new and used car buying, new vehicle previews, road test reviews, car care maintenance, professional driving advice, and technology. Automotive enthusiasts and new car shoppers can read about the latest industry news, pricing, rebates and incentives, view photo galleries and research details on all makes and models. For more information visit autoMedia.com.