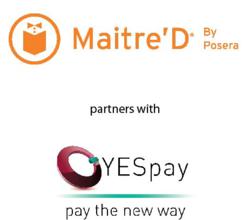 London (PRWEB UK) 26 September 2012
Providing integrated pay-at-table solutions enables Posera customers to reconcile payments without manual time consuming end-of-day reconciliation processes normally associated with standalone payment terminals. Fully integrated hospitality solution offers long-term cost savings as well as more effective centralised reporting, with the volumes and quantities of card sales recorded in a secure online portal. YESpay is certified to use the Verifone Vx670 PED (Payment Entry Device) with every major Card Acquirer in the UK. YESpay also accepts PayPass (MasterCard) and payWave (Visa) contactless payments via the fixed VX820 PED devices.
Michel Côté, President, Posera-HDX, states, ''YESpay is a global payments services company, that is known for its innovative culture and wide-range of payment solutions they offer. Our partnership is right in line with our strategy to maintain Posera's position as a strong international player in the POS software industry, with customers in 26 countries around the world. Integration with the YESpay payment solutions allows Posera to now offer integrated solutions internationally.''
Integration with Posera's Maitre'D POS solution provides reduces manual keying errors. With full support for Sale, Refund, Gratuity and Split transactions, upgrading the payment system to YESpay fully integrated system leads to a fast, simple and secure solution finally resulting in enhanced customer experience.
YESpay is able to offer flexible payment processing terms to customers that use Posera's Maitre 'D software: The merchant can select YESpay's payment gateway, paying a one-time set-up fee and a monthly fee while purchasing the PED themselves and also keeping the relationship with their existing Card Acquirer.
If you wish to discuss integrated EMV chip & PIN pay-at-table solutions from YESpay in greater detail, please contact YESpay's sales team on sales(at)yes-pay(dot)com.
About YESpay International Limited
YESpay International Ltd., a global card payments service company, provides highly secure Internet, EMV Chip & PIN, contactless and gift card payment processing services to independent and multi-chain merchants. Through EMBOSS, the YESpay Managed Payment Service, merchants can quickly accept integrated card payments within EPOS, kiosks, hospitality and e-commerce systems with minimal capital investment and low on-going services costs. EMBOSS is an on-line IP-based payment processing service that has been generically pre-accredited by major Card Acquirers in Europe and North America (including First Data Merchant Service (FDMS), Chase Paymentech, Barclaycard Business, HSBC, HBOS, Lloyds Cardnet, Streamline, Ulster Bank, Elavon, PBS, Amex and Diners). In addition, the YESpay EMBOSS service is fully end-to-end certified to Payment Card Industry Data Security Standards (PCI DSS) Level 1 as mandated by Visa and MasterCard. The YESpay EasyV-Suite of card payment products is innovative and cost-effective for EPOS, Kiosk, Hospitality, Mobile and Internet environments. With the YESpay EMBOSS card payment service, merchants can perform card payments in both card-present and card-not-present environments.
About Posera and Maitre'D
Posera Software provides the restaurant industry with the latest technologies that offer flexibility, simplicity and increased efficiency. Maitre'D software (http://www.maitredpos.com) encompasses seamlessly integrated solutions that provide managers with the tools that they need to streamline their operations and facilitate management. These solutions are designed to meet any concept's specific needs, with fully customizable POS, Back-Office, Corporate and ASP applications. Posera is a global solution provider that operates offices in Seattle, Montreal, Glasgow, Paris, and Singapore, and has a reseller network that covers North America, Europe, the Middle East, Africa, and Australia.
Contact details:
UK Headquarters: Checknet House, 153 East Barnet Road, Barnet, EN4 8QZ, UK | +44 - 203 - 006 – 3790
Canada Office: 116 Spadina Avenue, Suite 201, Toronto, Ontario, M5V 2K6, Canada | 1 855-YES-PAY- 1
PR Contact: Nitasha Jain, Marketing Manager, ext. 402, Nitasha(dot)Jain(at)yes-pay(dot)com marketing(at)yes-pay(dot)com