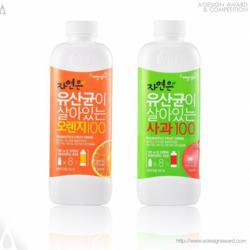 Como, Italy (PRWEB) September 26, 2012
A' Award and Competitions are encouraged to announce that the project Probiotics Fruit Drink by Woongjin Food Design Team has been awarded with the famous A' Design Award at Packaging Design Competition chosen as one of the winners by the esteemed jurors of the A' Design Awards & Competitions amidst thousands of nominations.
Winner Design: Probiotics Fruit Drink
Woongjin Food Design Team, the creative mind behind the awarded work Probiotics Fruit Drink explains, "To emphasize the functional elements of lactic juice, an opaque mold in unique rectangular shape with a large sized label and Hangul typography is applied to the front of the packaging in order to help customers for better understanding of the new category and improve the product awareness. Icons are used to let customers know the content of lactic acid bacteria contained in the products instinctively and the application of minimized sizzle expression to the sides let customers feel the distinction from the general expression of fruit juices. " Learn more about this design: http://www.adesignaward.com/design.php?ID=25381
Team Members for Probiotics Fruit Drink
Probiotics Fruit Drink was conceived by Jin-Gue CHOI, Sang-Hee LEE, In-Sung HEO, Shinyoung BACK, You-Ba LEE, and ID&COMM.
The A' Design Award
The A' Design Award is a prestigious award given to top 20% percentile designs that has exhibited an exemplary level of perfection in design. The designs are judged by a panel of three different jury which is composed of Academic, Professional and Focus Group Members. The designs are evaluated with score normalization to remove any biases and are voted on aspects such as functionality, ergonomics, engineering, presentation, innovation, usability, fun details, technology, and any other specific points that could be considered, each of these points are further weighted for different jury groups.
About A' Design Award and Competitions
A'Design Award and Competitions, aims to highlight the excellent qualifications of best designs, design concepts and design oriented products. A' Design Award and Competitions are organized and awarded annually and internationally in multiple categories to reach a wide, design-oriented audience. Learn more: http://www.whatisadesigncompetition.com