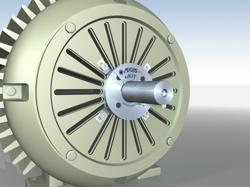 Mechanic Falls, Maine (PRWEB) September 27, 2012
Electro Static Technology, inventor and manufacturer of the world's most effective shaft grounding ring technology, the AEGIS® Bearing Protection Ring, is pleased to announce that Johnstone Supply has added AEGIS® Shaft Grounding Ring Kits to their catalog to help their customers reduce AC Motor failure caused by VFD induced shaft currents.
AEGIS® uKIT's are designed for field retrofit of NEW AC Motors, 56 frame and up (Solid AEGIS® Ring Kit) or on INSTALLED AC Motors without uncoupling attached equipment (Split AEGIS® Ring Kit) in order to protect motor bearings and the bearings in attached equipment
Electrical Motors consume 50% of electricity in Commercial Buildings in the US. Utility savings is top of mind in effort to improve profitability by reducing a "Fixed Cost". Adding VFDs (Variable Frequency Drives) offer an immediate savings to end users, often with less than 6 months ROI. VFD's optimizes efficiency by controlling Motor Speed at start up and while running. However, although VFDs are widely used in many applications, the use of VFDs with AC motors induce electrical voltages on the motor shaft which, over time may result in electrical motor failure due to bearing failure – sometimes in as little as weeks or months and can cost thousands of dollars in increased maintenance and lost production.
How it Works: The new AEGIS® SGR Conductive MicroFiber™ Bearing Protection Ring prevents electrical damage to motor bearings by safely channeling harmful currents to ground. Using proprietary Electron Transport Technology, the conductive microfibers inside the AEGIS® SGR provide the path of least resistance for damaging bearing currents, preventing electrical damage to motor bearings and dramatically extending motor life. Click here to see AEGIS® uKIT Video Link
Johnstone Supply is the leading cooperative wholesale distributor in the HVACR industry, with well over $1.3 billion in annual sales and more than 370 independently owned store locations across America. Johnstone Supply offers superior customer service, technical advice and training seminars, an annual print catalog featuring over 30,000 HVACR parts, supplies and equipment, and a valuable website resource with a searchable online catalog featuring more than 58,000 products ordered directly from local stores. Johnstone is proud to be an official partner and active contributor to Operation Homefront, a national non-profit providing emergency financial and other assistance to the families of military members and wounded warriors. (http://www.JohnstoneSupply.com)
Electro Static Technology is the global leader in the elimination and/or mitigation of induced electrical charges on rotating and moving surfaces. Electro Static Technology manufactures the patented technology AEGIS® SGR Bearing Protection Ring for electric motors and generators and is a division of Illinois Tool Works (ITW), a $16 billion diversified manufacturing company with operations in 44 countries.
For more information, contact: Adam Willwerth, Sales & Marketing Manager, Electro Static Technology, 31 Winterbrook Road, Mechanic Falls, ME 04256, Toll-Free: 1-866-738-1857, Direct: (207) 998-1232, FAX: (207) 998-5143, http://www.est-aegis.com.