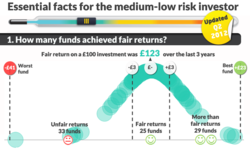 We are always looking for new, clearer ways to give people the facts they need to decide how to invest.
London (PRWEB UK) 27 September 2012
InvestorBee, the free-to-use website which provides, fact-driven tools to simplify investing has just published an infographic focusing on the options for lower risk investors. InvestorBee's objective, data-driven analysis is brought to life with a series of graphics which arm the inexperienced investor with the facts they need to make informed investment decisions without wading through a lot of dry research or paying for an expert investment manager.
InvestorBee's approach is based upon its unique database of over 1.4 million real UK investors. Their experiences are used to identify five objective levels of investment risk and to create fair return benchmarks and fund ratings. That means a would-be investor can select any level of risk and then see how real people have been rewarded for taking that much risk in the past, then discover suitable investment funds and see if they delivered a fair return and how they stack up against each other.
InvestorBee's new infographic focuses on the medium-low category – the lowest risk level at which InvestorBee rates funds. Analysis of InvestorBee's database of investors tells us that a fair return on £100 over the last three years for this level of risk was £123 (after fees). 87 multi-asset funds have been objectively diagnosed as medium-low risk, out of which, 33 are deemed to have delivered "unfair returns", 25 have delivered "fair returns", while 29 have delighted investors with returns classified "more than fair" - in other words, they have exceeded the average return achieved by people investing at that level of risk. See figure 1.
Fees are a factor
But how can investors figure out how to avoid "unfair returns"? InvestorBee's analysis goes onto show that fees are a factor. For Q2 2012 at this level of risk, although some of the most expensive funds did achieve fair returns, they were much less likely to do so than the cheaper funds. Almost two-thirds (57%) of funds with TER (Total Expense Ratio) under 2% beat the fair return, while only around a third (36%) of those charging a TER of more than 2% managed to deliver a fair return or better. See figure 3.
Should we focus on consistency?
The consistency analysis provides further food for thought. A spokesperson for InvestorBee commented: "Assessing funds quarter by quarter, it is surprising to see how few funds outperform the fair return benchmark on a truly consistent basis. Looking at the last twelve quarters, just 15 of the 87 (17%) beat the fair return in more than seven quarters." See figure 2.
The top performing fund is revealed to be Aberdeen Managed Distribution. InvestorBee's spokesperson continues: "The Aberdeen fund is particularly impressive – not just beating the fair return by the biggest margin over the whole of the last 3 years (+£23.18 above a fair gain on the original £100) but also managing to beat it in all but one of the last 12 quarters." He goes on "It is also interesting to see funds like Threadneedle Defensive Equity & Bond fund which is just above the fair return benchmark in the last 3 years (at +£2.60) but has still been very consistent, beating the fair return in 8 out of 12 quarters."
The full infographic, including a league table detailing the performance of all eligible funds, can be viewed on InvestorBee. All this information, clearly and colourfully displayed, equips investors with some powerful information to help them compare investment funds and make their own smart decisions.
About InvestorBee:
InvestorBee, powered by DCisions and launched in December 2011, is a website that helps consumers make informed, fact-based decisions about their savings and investments. It analyses data from more than one million UK investors, over 30,000 financial products and over 1,000 sources of professional advice to track the results real investors are achieving. For more information on the site, visit http://www.investorbee.com.