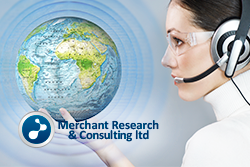 London, UK (PRWEB) September 26, 2012
Supported by the emergence of new technologies and markets like biofuels, NOs emissions, NPK/NP, AdBlue, the global ammonia market has been on a steady growth path recently, and it is expected to reach close to 170 million tonnes in the coming four years.
China is the largest market and consumes almost one-third of the world's ammonia. Although it is the largest global producer, it uses virtually all that it produces and is not a significant factor in world trade. The majority of new ammonia capacity is expected to come on line in China for internal consumption and in the Middle East and North Africa primarily for export of nitrogen-based products.
In-demand market research report "Ammonia 2012 World Market Outlook and Forecast up to 2017" features a detailed review of, and projections on the ammonia market at the global, regional and country levels.
The study sheds light on the market's present state, historical background and outlines the future scenario of its development. It provides a wealth of knowledge on key market parameters, including ammonia production and consumption in the respective geography, trade activities, and recent prices for the material. Further, ammonia market projections for five years ahead, including market volumes and prices, as well as the profiles of the top market participants can also be found in the report.
Report Details:
Ammonia 2012 World Market Outlook and Forecast up to 2017
Published: January, 2012; monthly updates available
Pages: 398
http://mcgroup.co.uk/researches/ammonia
Report Contents:
DISCLAIMER
RESEARCH METHODOLOGY
1. INTRODUCTION: PROPERTIES AND USES
2. MANUFACTURING PROCESSES
3. AMMONIA WORLD MARKET
3.1. World ammonia capacity

Global capacity broken down by region (incl. regions shares)
World capacity divided by country (incl. countries shares)
Ammonia producers and their capacity (by plant)
3.2. World ammonia production

Global production dynamics (2003-present)
World production by region, 2011
Global production by country, 2011
3.3. Ammonia consumption in the global market

World consumption (2003-present)
Consumption by end use sector, 2011
Consumption trends in Europe (incl. historical background 2003-2011)
Consumption trends in Asia (incl. historical background 2003-2011)
Consumption trends in North America (incl. historical background 2003-2011)
3.4. Ammonia global trade

World trade dynamics
Export and import flows in regions
3.5. Ammonia prices in the world market

Prices dynamics in Europe
Prices dynamics in Asia
Prices dynamics in Norrh America
4. REGIONAL MARKETS ANALYSIS
Each country section comprises the following parts:

Total installed capacity in country
Production in country (2006-2011)
Manufacturers in country
Consumption of in country (2006-2011)
Suppliers in country
Export and import in country (2005-2010)
Prices in country
4.1. Ammonia European market analysis
Countries covered:

Austria
Belgium
Bulgaria
Croatia
Czech Republic
France
Germany
Greece
Hungary
Italy
Lithuania
Netherlands
Norway
Poland
Portugal
Romania
Russia
Serbia & Montenegro
Slovakia
Spain
Ukraine
UK
4.2. Ammonia Asia Pacific market analysis
Countries included:

Afghanistan
Armenia
Bangladesh
China
India
Indonesia
Japan
Malaysia
Myanmar
Pakistan
South Korea
Turkmenistan
Uzbekistan
Vietnam
Australia
New Zealand
4.3. Ammonia North American market analysis
Countries under consideration:

4.4. Ammonia Latin American market analysis
Countries overviewed:

Argentina
Brazil
Colombia
Mexico
Trinidad
Venezuela
4.5. Ammonia Africa & Middle East market analysis
Countries examined:

Algeria
Bahrain
Egypt
Iran
Iraq
Kuwait
Libya
Nigeria
Oman
Qatar
Saudi Arabia
Turkey
UAE
Zambia
5. AMMONIA MARKET PERSPECTIVES
5.1. Ammonia capacity and production forecast up to 2017

Global production forecast
Ongoing projects
5.2. Ammonia consumption forecast up to 2017

Future trends in the market worldwide
World consumption forecast
Forecast of consumption in Europe
Consumption forecast in Asia
Consumption forecast in North America
5.3. Ammonia estimated prices changes up to 2017

Prices forecast in Europe
Prices forecast in Asia
Prices forecast in North America
LIST OF TABLES
LIST OF FIGURES
"Ammonia 2012 World Market Outlook and Forecast up to 2017" is included into the catalogue "Inorganics", which also highlights Ammonium Nitrate, Ammonium Sulphate, Carbon Black (BC), Caustic Soda, Chlorine, Potassium Hydroxide, Soda Ash, Sodium Chlorate, Sodium Sulphate, Titanium Dioxide, Urea markets.