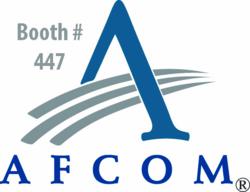 Farmingdale, NY (PRWEB) September 27, 2012
AFCO Systems, the leading manufacturer of racks, cabinets, enclosures, and air containment systems for the data center and telecommunications industry, plans to attend the Fall 2012 AFCOM Data Center World Conference and Expo in Nashville, Tenn. The premier event for data center and facilities management professionals takes place September 30 - October 3 and features the latest technology from the top partners in the data center field. Data Center World connects professionals with real-world solutions through comprehensive, vendor-neutral education, peer networking and unparalleled access to technology service providers.
AFCO Systems is attending AFCOM Data Center World to raise awareness of their new T-Series product line of server and network enclosures and to highlight their swift ability to handle customer specific solutions.
"Our customers have many challenges that they face when trying to optimize both cooling and operational efficiencies in their data centers," added Michael Mallia, Chief Executive Officer of AFCO Systems. "We closely listen to our customers' requirements and then configure or customize a customer specific solution to create a user friendly experience. The robustness of our new tubular T-series frame is ideal for Rack and Stack applications where dynamic loads are critical. These types of innovations along with our ability to provide integrated solutions for cable management, power strips, and air flow management are why AFCO is the choice of many fortune 500 companies."
The fall conference features more than 50 education sessions along with greater networking opportunities including more round-table discussions, new unconference sessions and enhanced social functions. Additional end-user feedback has resulted in the doubling of Expo Hall hours to allow for superior access to all of showcased technologies from the top partners in the data center field.
Keynote speaker and international security guru, Winn Schwartau, will be presenting "All National Disasters Begin at the Local Level" where attendees will go through their data centers to examine the real risks they face in today from Acts of God to Acts of Man. Other opportunities the conference holds is the sharing of critical ideas attendees learn based on discussions with other end-users at the event.
Representing AFCO Systems at Data Center World is CEO Michael Mallia, Vice President Sales Graham Leonard, Director of Inside Sales Joseph Mallia and Marketing Associate James Weis. AFCO Systems, a strategic partner of many Fortune 500 companies, comes to the fall conference with a track record of innovation having the only line of products that can handle "high-density" data center environments with minimal change in infrastructure.
Contact AFCO at sales(at)afcosystems(dot)com for more infomation about their customer specific solutions.
About AFCO Systems
AFCO Systems is a leading manufacturer of racks, cabinets, enclosures, and air containment systems for the data center and telecommunications industry. Since the company's founding in 1971, AFCO has been an industry pioneer with numerous patents and cutting edge designs that accommodate cabling, cooling, power, integration services, and on-site end-user usability challenges and requirements. The ability to deliver a wide range of standard products to address end-user specific requirements has led many companies in the Fortune 500 to choose AFCO as their strategic partner with their data center and telecom infrastructure needs. AFCO manufacturers its products in its lean manufacturing plant in Farmingdale, NY with additional manufacturing operations internationally to support its clients in EMEA and APAC markets.