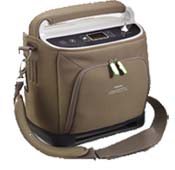 What price is your freedom worth?
Houston, Texas (PRWEB) September 27, 2012
Sleep Restfully, Inc. announces their Annual Fall Travel Sale on Portable Oxygen Concentrators. What better time than now to plan for your holiday visit to that special family member or prepare for that upcoming winter cruise you have waited all year for. Prices start at just $1,995.00 for a portable oxygen concentrator completer with AC/DC adapters, batteries, case and warranty.
Until October 31st oxygen dependent customers will enjoy the lowest prices of the year on the portable oxygen concentrator that is right for them. In addition, many portable oxygen concentrators have come down in price over the past 12 months making owning a portable oxygen concentrator more affordable than ever. Sleep Restfully, Inc. is a distributor for every major portable oxygen concentrator on the market today. Choose between the pulse dose Philips Respironics EverGo, Inogen G2, Oxus Reliability Plus, Invacare XPO2 or the continuous flow/pulse dose Philips Respironics SimnplyGo, SeQual Eclipse 3, O2 Concepts Oxlife Independence, Invacare Solo 2 and DeVilbiss iGo all at their lowest price of the year.
Portable Oxygen Concentrators allow the oxygen dependent person to continue their active lifestyle. No longer are they tethered to a stationary concentrator or heavy portable tank oxygen. All portable oxygen concentrators work on AC power, DC power or lithium ion batteries and are dual voltage. Now the oxygen dependent person can take that cruise they have missed or travel to see the most exotic spots in the world without worrying about not having the oxygen they depend upon. The FAA has approved the use of portable oxygen concentrators on board all domestically owned airlines. The world is now your playground.
Anyone interested in a portable oxygen concentrator should call Sleep Restfully today toll free at (866) 923-2727 to inquire about special pricing available during the Fall Travel Sale on Portable Oxygen Concentrators. Portable oxygen concentrators will be around for years to come however, these LOW prices will only last until October 31, 2012.
Sleep Restfully, Inc. places customer service and satisfaction as its highest priority to sleep therapy and oxygen customers. Sleep Restfully, Inc. believes that they are second to none in customer service, which is reflected in their decades of experience and their Better Business rating of "A". Sleep Restfully carries a complete line of sleep therapy supplies and equipment from the best manufacturers in the industry, such as Resmed, Philips Respironics, Fisher & Paykel, and others. In addition to CPAP machines and supplies, Sleep Restfully specializes and carries portable oxygen concentrators. Sleep Restfully offers the best support and prices on portable oxygen concentrators such as the Respironics SimplyGo, Respironics EverGo, Sequel Eclipse 3, Inogen G2, Invacare XPO2, and more. Stationary oxygen concentrators are also carried, such as the Respironics EverFlo and Invacare Perfecto.
Sleep Restfully stocks all replacement parts for CPAP machines, CPAP masks, and portable oxygen concentrators.
Contact Sleep Restfully, Inc. today toll free at (866) 923-2727 or by visiting sleeprestfully.com.