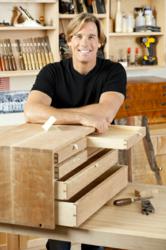 Host Tommy MacDonald and the 'Rough Cut' crew continue to deliver exciting, top-quality woodworking projects and supporting techniques that appeal to woodworkers of all skill levels -- a great fit for Woodcraft …
Parkersburg, W. Va. (PRWEB) September 26, 2012
Woodcraft is pleased to provide major funding for the third season of "Rough Cut – Woodworking with Tommy Mac," a WGBH Boston public television production that was nominated twice for a Daytime Emmy® Award and claimed three Telly Awards in its first two seasons. The season three opener will air Saturday, October 6 (check local listings or visit http://www.thomasjmacdonald.com/stationfinder/).
"Host Tommy MacDonald and the 'Rough Cut' crew continue to deliver exciting, top-quality woodworking projects and supporting techniques that appeal to woodworkers of all skill levels -- a great fit for Woodcraft, since the company strives to provide the best woodworking products, educational opportunities and one-on-one guidance to woodworkers," Woodcraft President Jody Garrett said.
Celebrity projects highlight season three's 13-episode lineup. Tommy travels to Los Angeles to visit the woodshop of Nick Offerman, who plays Ron Swanson on NBC's hit series "Parks and Recreation." Offerman, an accomplished woodworker and proprietor of the Offerman Woodshop, joins forces with Tommy to build a King-Sized Platform Bed, featuring a stunning live-edge ambrosia maple headboard. In the final episode, Tommy visits Jim Craig, legendary goalie for the 1980 "Miracle on Ice" hockey team that claimed the Olympic gold medal. In a room dominated by flat screen televisions, Tommy is able to create a spectacular Cherry Media Center that allows Craig to display a few other prized possessions.
In addition to the celebrity pieces, "Rough Cut" viewers will also watch Tommy build a Coopered Leg Table, Workbench, Barley Twist Lamp, Mitered Hall Table, Dovetailed Toolbox, Steam Bent Lounge Chair, Carved Frame, Bamboo Vanity, Laminated Bowl, Demilune Table, and a Freestanding Deck – projects for all skill levels. Within each half-hour episode, Tommy goes over the step-by-step process of building the project, while offering special "T-Mac tips" on technique. Joining Tommy in his shop are series favorites – Eli Cleveland, North Bennet Street School graduate; Boston-based woodworker Al D'Attanasio, and Steve Brown of the North Bennet Street School.
Other road trips include Rhode Island to visit the world-famous Johnson and Wales University Culinary School at Providence and the International Yacht Restoration School at Newport, home of The Coronet, one of the world's most famous sailing vessels; the Berkshires, the Museum of Fine Arts in Boston and the USS Salem, a U.S. Navy ship from World War II.
"'Rough Cut – Woodworking with Tommy Mac' has given viewers a step-by-step, entertaining look into the creative world of woodworking," says executive producer Laurie Donnelly. "Viewers have really responded to Tommy and his woodworking. We hope they will be as excited for the third season as we are."
WGBH Boston produces "Rough Cut – Woodworking with Tommy Mac," which is distributed by American Public Television. Tommy MacDonald is host, and Laurie Donnelly is executive producer/director for WGBH Lifestyle Productions. Major funding is provided by Woodcraft Supply, LLC. Additional funding is provided by Jet/Powermatic, Downes and Reader, Easy Wood Tools, Titebond and Oneida Air Systems.
To follow Tommy MacDonald and "Rough Cut," visit http://www.thomasjmacdonald.com, http://www.facebook.com/RoughCutTv, http://www.twitter.com/RoughcutTV, and http://www.wgbh.org.
DVDs of season one episodes and the companion book, "Rough Cut – Woodworking with Tommy Mac" from The Taunton Press, are available at Woodcraft or http://www.roughcutwoodworking.com. The downloadable plan for Tommy's Tool Cabinet featured in "Woodcraft Magazine" (Issue 43 Oct/Nov 2011) is also available at Woodcraft.
For more information about Woodcraft, please contact the store nearest you, visit http://www.woodcraft.com or call (800) 535-4482. To learn about Woodcraft franchise opportunities, call (800) 344-3348, visit http://www.woodcraftfranchise.com or email woodcraftfranchise(at)woodcraft(dot)com.