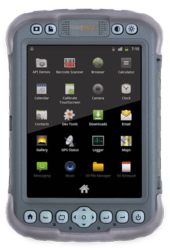 "The RAMPAGE 6 offers modern software platform on a certified, ultra-rugged device. This guarantees a faster ROI and a secure investment." - Vargus Partners Group
Harmony, PA (PRWEB) September 27, 2012
SDG Systems announced today the beginning of shipments of the RAMPAGE™ 6 rugged notepad computer. The RAMPAGE 6 is a Rugged Android™ (AOSP) Machine ("RAM") designed to be used in the most demanding environments. It is IP67 and MIL-STD-810G tested to ensure its durability. Dual-battery capability ensures all day operation.
The Hazardous Location (HazLoc) Class I Division 2 certification makes the RAMPAGE 6 ideal for industries such as oil, gas and mining. Daniel Pacheco, Vice President of Product Development at AXON RFID Products, concurs. "AXON is excited to offer SDG System's RAMPAGE 6 Android notepad. The RAMPAGE 6 will provide a technology roadmap for our A-360 Suite asset management system's mobile architecture and future capabilities. As Android continues to expand into other industrial markets such as oil and gas, the need for certified handhelds will continue to increase along with the mobile applications required to drive data mobility. The large display will provide our mobile application the advantage of adding more functionality and increase the overall user experience. The RAMPAGE's multiple I/O connections and wireless capabilities, along with an embedded GPS module, provides the flexibility of interacting with other systems and devices." The RAMPAGE 6 is unique in its dimensions, allowing one-hand viewing with a large, easy-to-read 5.7" display. The full assortment of ports permits connectivity to other devices for field service operations.
SDG Systems currently has RAMPAGE 6 reseller partners in Europe, Asia, and North and South America, with others coming soon. Antonio Vargas, CEO of Vargas Partners Group in Brazil, works with public and private companies. "Our customers are looking for innovative, highly-reliable and robust technologies that can reduce their costs and increase productivity," said Mr. Vargas. "The RAMPAGE 6 offers modern software platform on a certified, ultra-rugged device. This guarantees a faster ROI and a secure investment." Additional reseller opportunities are available in all locations. The RAMPAGE 6 hardware is designed and manufactured in the USA for SDG Systems by Juniper Systems, a leading manufacturer for rugged handheld computers for use in extreme environments.
The HazLoc Class I Division 2 certification is expected to be available by October 8, 2012. The current Android (AOSP) 2.3 beta software release is available for developers and evaluations. Units purchased today will receive an over-the-air update to the final software release in October.
About SDG Systems
SDG Systems, LLC is a world-wide value added reseller of rugged computing products, providing responsive technical support, complete solutions, software customizations and porting services. SDG Systems is a world-wide leader of implementing Google Android (AOSP) solutions on rugged devices, and has been developing and supporting Linux system software since 2001.
About Juniper Systems
Based out of Logan, UT, Juniper Systems designs and manufactures rugged handheld computers for mobile data collection in extreme environments. Since 1993, Juniper Systems has provided innovative mobile technology to agriculture, natural resource, industry, geomatics, public works, and military markets.