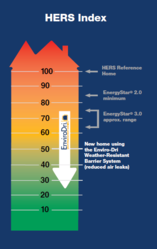 Chicago, IL (PRWEB) September 27, 2012
Priority Energy is proud to bring the cost-effective, high-performance weather-resistant barrier system, Enviro-Dri, to JB Architecture's custom built, green home in Naperville, IL. With this unique moisture and air leak barrier system this home will have outstanding comfort benefits, cleaner indoor air quality and 50% lower utility bills than an average new home.
"We want to help builders meet IECC 2012 and Energy Star 3.0 requirements as simply as possible. When we saw the numerous benefits of this system we knew it was just what contractors and builders needed. We are pleased to be working with JB Architecture, this forward-thinking design and build team, on their next project as well; a Net-Zero home in Northern Illinois," says Robert Schildgen, owner and CEO of Priority Energy, Chicago's leading energy solutions company.
The efficiency proof is in the HERS score. Enviro-Dri sealed homes will have a HERS score as low as 40- 50 on the rating index, which means it will use at least half as much energy as a comparable new home. An average home today would have an efficiency rating of 90-100 on the Home Energy Rating System or HERS Index, the measurement system set by RESNET which provides nationwide comparisons and estimates of energy use.
This seamless process is simple, yet highly effective. Enviro-Dri is a liquid asphalt polymer which is sprayed and painted onto sheathing. A typical 2500 – 3000 sq. ft. home can be sealed in about one day. The application is permanent and cannot be torn off in high winds or saturated by heavy rain. Traditional housewraps are stapled and nailed to exterior sheathing, allowing small holes and seams that air and moisture can penetrate.
Meet the HERS Raters and Enviro-Dri specialists from Priority Energy and the architects and builders from JB Architecture Group at an Mid-Construction Open House: Friday, September 28 from 1:00 – 5:00 pm and Saturday, September 29 from 9:00 – 1:00 pm.
About Priority Energy, LLC
Priority Energy providers energy efficiency services for single and multi-family homes, contractors and builders, and commercial properties. Their HERS raters and BPI certified auditors perform energy audits, efficiency retrofits, IECC 2012 and Energy Star 3.0 verifications. The company also provides Aeroseal duct sealing and Lifebreath Clean Air Furnaces and HRVs. Priority Energy is a nationally certified BPI and RESNET training center.