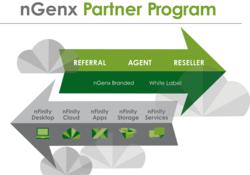 It is our goal to be known within the cloud industry for providing the best possible experience to our partners and customers.
Chicago, IL (PRWEB) September 27, 2012
nGenx, a leading cloud services provider of hosted applications and desktops, has launched its nFinity Partner Program™ which provides support, services, and products to make its partners successful in cloud application delivery.
The nFinity Partner Program™ sets nGenx apart from others in the industry by providing a fully brandable, self-service platform. It enables Software Vendors, Telecommunications Carriers, Managed Service Providers and VARs a low risk method to embrace today's application and desktop virtualization technologies with no capital investment that allows them to explore new recurring revenue markets.
For over 12 years nGenx has been a cloud services pioneer and its executives have a history of developing and managing partner channels in the telecom and software markets. nGenx has leveraged this history and experience to refine an accessible and responsive partner launch process that is designed to get partners into the market quickly and easily.
nGenx develops its partners into cloud experts with the following onboarding and launch services:

nFinity Training™ – A comprehensive training program to equip all nGenx Partners with marketing, sales, provisioning and support tools. Classes are taught based on nGenx's standard and proven curriculum as well as custom tailored training curriculum to meet each partner's specific business objectives.
nFinity Control Panel™ – A web-based, single pane-of-glass provisioning system that provides partners with complete control over their cloud service offerings. Not only does the nFinity Control Panel™ enable scalability, its interface can be customized to fit the branding requirements of white-label partners.
nFinity Support™ – nGenx is proud to offer one of the easiest and most thorough support models for their partners. Premium Support includes phone calls to tech support, e-support, knowledgebase access and invitations to participate in our early adopter program for new product testing.
nFinity Consulting™ – Many partners find that their customers need a custom or on-premise technology solution. nGenx has internationally renowned technical experts to help build out complex virtualized environments with hosted applications.
Sales Engineering and Marketing Support – Each partner will be assigned an Account Manager. nGenx is fully available to offer sales engineering assistance provided by industry veterans and has plans to roll our various marketing campaign services to channel partners in the near future.
"In addition to significant investments in our cutting-edge virtual application delivery platform, nGenx has spent the last year focusing on building a robust and user friendly channel partner program," said Robert Bye, President and CEO of nGenx. "We have become the chosen partner for Independent Software Vendors (ISVs) who want to go-to-market with a powerful cloud-based product in as little as 60 days without having to invest in a complete software rewrite. We also have opportunities for White Label and Agent partners who would like to drive recurring revenue with significant ARPU (average revenue per user) and low churn. It is our goal to be known within the cloud industry for providing the best possible experience to our partners and customers."
For more information about the nFinity Partner Program™ or to sign up as a partner, please visit http://www.ngenx.com/partners.
About nGenx
Since its founding in 2000, nGenx has been a pioneer in cloud computing, working with strategic partners such as Microsoft, Citrix, Intuit and others to develop hosted desktops and applications from the cloud. nGenx solutions include nFinity Desktop ™, nFinity Cloud ™, and nFinity Apps ™ which provide access to core line of business and Microsoft Office productivity applications. nGenx markets its solutions through a highly robust channel partner program supported by its nGenx Control Panel ™, a single pane-of-glass provisioning system that provides partners and enterprise customers complete control over their IT environments. Please visit http://www.ngenx.com for more information.