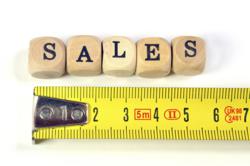 Today's business winners not only need to know what level they are currently at, but more importantly where they need to be. Accolade provides the answer.
Wilmslow, Cheshire (PRWEB UK) 27 September 2012
Today's business leaders are now looking at sales training and sales development with a different approach, sales training experts at Pareto have found. Responding to a changing business marketplace, Pareto launches their unique Accolade service, designed to meet demands for a more strategic approach to driving sales and staying ahead of the game in front of competitors.
"Our previous success in assessing sellers and sales leaders and accrediting professional selling identified a shift in the world of sales," observes John Holton, Director of Client Services (Accolade) at Pareto, "Today's business winners not only need to know what level they are currently at, but more importantly where they need to be.
Accolade as a package helps clients measure the competence of their sales force, before providing tailored learning and sales transformation solutions to raise the bar. Finally we confirm the new capability level. It's a linear and strategic approach that ties all the different aspects of the sales development process together."
The Accolade message focuses upon the delivery of sales excellence through four core principles; Audit, Attain, Accredit and Align. Designed to identify, assess, benchmark, develop and accredit current and future sales forces, the Accolade package has already enjoyed tremendous interest and uptake, with projections for the forthcoming year indicating the trend is set to continue.
"At Pareto we are constantly supporting our clients in maximizing sales results and the talent of the teams that drive these results," John explains, "And the unbelievable demand generated for the newly launched Accolade service demonstrates the importance business managers are now assigning to sales development, particularly in the current economic climate."
The Accolade Sales Transformation service aims to provide business across the marketplace with sellers who win through competency-based assessment and attainment, complimenting the Pareto offering of bespoke sales training, sales recruitment and executive recruitment. For more information, visit the Pareto website.
About Pareto Law:
Pareto Law is the UK's leading graduate sales recruitment, sales training and sales enhancement company, specialising in helping thousands of companies around the UK and abroad to enhance and develop their sales. The company believes that 80% of sales often come from the top 20% of the sales team. Pareto Law aims to provide this top 20% through a mix of rigorous assessment and professional training.
Pareto was voted 'Sales Recruitment Agency of the Year' at the National Sales Awards. The company is also a past winner of the Sunday Times Best Small Company to Work For award, and is accredited with the Investors in People standard.
In 2008 Pareto formed a partnership with the Randstad Group, the world's second largest resourcing and staffing organisation.